⏳ Do you want to skip the read and get right to my top pick? The best VPS unlimited bandwidth hosting provider for most people is Scala Hosting.
---
Introduction to VPS Unlimited Bandwidth Hosting Providers:
Welcome to our guide for best VPS unlimited bandwidth services.
Virtual private servers (VPS) are the most cost-efficient way to host a website because they provide the same services as a dedicated on-site server but at considerably lower capital and operational costs.
We've created websites for two decades and believe me hosting your website on a VPS unmetered traffic can greatly enhance its performance, as well as its safety. In a VPS hosting scenario, a website can be sectioned off into its own safe zone, virtually unimpeded by traffic from other websites. In doing so, site visitors are assured of a more secure browsing (and, in the case of retail websites, shopping) experience. Also, it cuts down on the cost of purchasing and maintaining hardware at an equal if not superior level of service to that of a conventional dedicated server.
But, as with all hosting services, not all VPS hosting providers are made equal.  The need for a VPS unlimited bandwidth is a key consideration for many companies. Today's feature highlights the three best VPS unlimited bandwidth hosting providers.
---
My Top 10 Unlimited Bandwidth VPS Hosting Providers:
Taking into account all hosting companies and considering various factors such as reliability, performance, customer service, and value for money, these are the best VPS unlimited bandwidth services for you.
Scala Hosting – Best for Customisation and Scalability (🌟 My Top Pick!)
Contabo – Best for Cost-Effectiveness
MochaHost – Best for Uptime Reliability
InMotion Hosting – Best for Business Hosting
OVHCloud – Best for High Traffic Websites
Black.host – Best for Privacy and Security
DreamHost – Best for a User-Friendly Experience
Shinjiru – Best for Offshore Hosting
GoDaddy – Best for All-in-One Services
Bluehost – Best for WordPress Hosting
---
Quick Comparison table For My Top 10 Unlimited Bandwidth VPS Hosting Providers:
Ranking 
Pricing From
Key Features
My View
🥇1. Scala Hosting

(My Top Pick!)

$9.95/month
Unlimited Bandwidth, SPanel Control Panel, SSD Storage
Scala Hosting offers SPanel and great customization options, ideal for those who need flexibility and scalability in their hosting solution.
2. Contabo
$5.99/month
Unlimited Bandwidth, SSD Storage, DDoS Protection
Contabo strikes a good balance between features and cost, making it an economical choice for businesses on a budget.
3. MochaHost
$7.98/month
Unlimited Bandwidth, 100% Uptime Guarantee, Free SSL
MochaHost's 100% uptime guarantee makes it a highly reliable option for critical business websites.
4. InMotion Hosting
$17.99/month
Unlimited Bandwidth, Free SSL, DDoS Protection
InMotion Hosting is known for outstanding customer service and is ideal for business websites that require consistent performance.
5. OVHCloud
$3.50/month
Unlimited Bandwidth, Anti-DDoS, Data Backup
With solid infrastructure, OVHCloud is well-suited for high-traffic websites that require a robust hosting solution.
6. Black.host
$19.95/month
Unlimited Bandwidth, Offshore Hosting, High Security
Black.host's offshore hosting and emphasis on security make it ideal for websites that handle sensitive data.
7. DreamHost
$10/month
Unlimited Bandwidth, User-Friendly, SSD Storage
DreamHost's easy-to-use platform is great for those who are new to web hosting and need a hassle-free setup.
8. Shinjiru
$3.95/month
Unlimited Bandwidth, Offshore Hosting, Bitcoin Payments
For websites requiring high privacy protection, Shinjiru's offshore hosting is an excellent choice.
9. GoDaddy
$4.99/month
Unlimited Bandwidth, 24/7 Support, All-in-One Services
GoDaddy is a one-stop-shop for domain, hosting, and additional services, making it convenient for a wide range of users.
10. Bluehost
$18.99/month
Unlimited Bandwidth, Optimized for WordPress, Free SSL
With official recommendation from WordPress and unlimited bandwidth, Bluehost is well-suited for WordPress sites.
---
What is VPS Unlimited Bandwidth Hosting?
Similar to a shared hosting service, VPS hosting accords a more secure and stable platform that gives clients all the benefits of a dedicated server but on a considerably smaller physical scale and at a fraction of the cost.
VPS hosting is the typical choice for those whose website traffic has exceeded the standard bandwidth limits of standard shared hosting plan, but do not as yet require the provision of a dedicated server. Hosting plans in this category can be configured to suit the specific needs of clients.
---
How We Chose Our Best Unlimited Bandwidth VPS Hosting Providers:
Our criteria for selecting the best unmetered bandwidth VPS hosting providers includes the following:
Ease of use – Essentially, how user-friendly is the VPS unmetered traffic? Regardless of whether you're a developer, site manager, or someone who's just had more experience than most when it comes to handling servers and websites, your unlimited bandwidth VPS of choice should be easy enough to set up and use;
Extensive range of resources – By this, VPS unlimited bandwidth hosting also means the amount of memory (RAM in gigabytes), storage volume, and even the number of processors they have on hand can profoundly impact the overall performance, loading speed, and future scalability of your website. In today's traffic-reliant days, a VPS with unlimited bandwidth is a must;
Reliability – This pertains to the uptime and loading speed. Ideally, we're looking for a VPS unlimited bandwidth hosting provider with a 99.99% uptime rating or higher and significantly rapid loading speeds, making it ideal for unmetered site traffic without users needing to worry that they have to compromise elsewhere;
Great features – Here's what you should consider about VPS unlimited bandwidth hosting providers: it's best to read the fine print. The platform may offer bandwidth unmetered, but skimp on all other features. You will have everything you need built into your hosting plan. Plus, you can add features at a most reasonable price; and
Security – This is the criterion that drives many people to opt for a VPS unlimited bandwidth hosting service as opposed to conventional shared hosting. Your VPS hosting provider of choice ought to be able to fend off attacks and resolve issues without causing serious trauma to users.
---
My Favoured Unlimited Bandwidth VPS Hosting Providers in Detail
1. Scala Hosting – My Top Pick for unlimited Bandwidth VPS Hosting Providers
Overview:
Next on our list of the best VPS unlimited bandwidth hosting services – Scala Hosting!
Touted as one of the most highly acclaimed VPS hosting services offering unlimited bandwidth to users, Scala Hosting has the distinction of being the hosting provider of choice for tech experts throughout the world. Case in point: Joomla actually migrated all its sites to Scala as the site builder found this specific hosting platform one of the most reliable – if not the most reliable – in the industry.
That's not surprising at all given the extensive range of features this particular platform offers its users. Along with fully managed VPS hosting solutions, Scala also offers scalable resources as well as monthly subscription rates that offer a lot of value for users' money.
The platform is also well known for its free (and certainly problem-free) migration service, as well as one of the best technical support teams currently operating in this sector of the tech industry.
Pros:
Offers excellent server speeds (average loading time: 158.7 milliseconds) and 99.9% uptime guaranteed;
Offers its own comprehensive and feature-packed SPanel dashboard as opposed to the more conventional (and somewhat outdated) cPanel offered by other providers;
Generous with its resources: bandwidth is unlimited and storage plans begin at 50GB per user
Cons:
All-in SSD performance is only available for those on higher-priced hosting plans;
Users can get sticker shock from the price as it doubles on renewal;
Does not have its own website builder, so you'll need to install a third-party platform
Pricing:
VPS hosting plans range from:
>> Check for the latest Scala Hosting discount pricing today <<
---
Mocha Host – Best for Uptime Reliability
Overview:
Whatever you do, don't let the somewhat dated look of the Mochahost website fool you. While it does look like a throwback to the first decades of the consumer internet, it conceals the fact that this is a platform with some serious heft for those looking into the best VPS hosting service with unlimited bandwidth.
Offering incredibly fast and exceptionally secure servers, its own website builder, round the clock site monitoring, a host of freebies (including SSL certificates, SEO tools, and even search engine submission), as well as separate plan subscriptions for Linux and Windows users, it's a hosting service that appears to cover all the bases.
Also, if you aren't sure about going for Mochahost, it offers the longest and most risk-free platform you may want to consider. It offers a 180-day (roughly six months) risk-free trial period for you to try it out and see if it works for you.
Features:
Full operating system setup inclusive of customizations;
Security suite, including an antivirus and a spam blocker;
Optimization and performance tuning;
Problem-free and fully free installation of third-party applications;
Regular vulnerability scans, patching, and updates;
Free system performance checks and reports;
Round the clock system monitoring and issue escalation;
Enterprise-grade SSD storage;
Unmetered bandwidth;
Free ecommerce tool suite; and
Proprietary website builder.
Pros:
Offers one of the longest "try before you buy" periods – 180 days – in the hosting services sector;
FOREX-optimized for ecommerce clients, enabling them to reach out to international markets;
Monthly traffic is unmetered for those on premium plans, but is also a substantial 1TB allowance for those on basic plans
Cons:
You will need to pay extra or upgrade to a premium plan so you can avail of a number of features including more advanced management dashboards;
Most of the templates offered through the website builder have an outdated aesthetic and the functionality is not at par with more au courant platforms;
Windows VPS hosting is more expensive than Linux hosting
Pricing:
The cost of your subscription will depend on whether you're running a Linux or Windows OS. As Microsoft charges license fees, the open-source Linux option is somewhat less expensive.
Price ranges are as follows:
Linux VPS hosting plans range from $7.98 to $19.98 monthly.
>> Check for the latest Mocha Host discount pricing today <<
---
Black.host – Best for Privacy and Security
Overview:
Customer satisfaction and a well-planned cloud infrastructure are the hallmarks of Black Host.
Enterprise- / industrial-grade security and availability are built into its VPS hosting packages; indeed, the bulk of Black Host solutions were specifically created for businesses and more tech-savvy individuals. Likewise, it emphasizes online security and – from the get-go – assures users that their information will not be used and/or disclosed to questionable groups like hackers or malware seeders.
Black Host also makes it a point to be compliant with the relevant cybersecurity laws in place in countries where their servers and data centers are located.
Likewise, you can be sure that things will be constantly evolving on this particular VPS unlimited bandwidth hosting platform as Black Host is well known for developing and deploying innovative solutions to suit the needs of a constantly growing industry.
Features:
Black Host's unmetered VPS plans include one to four vCore CPUs, RAM, between 20GB NVMe to 80GB NVMe in storage, a forward DMCA policy, as well as unmetered traffic.
In addition, the following features are available for customer use:
KVM true virtualization hypervisor;
Daily and weekly backups to ensure that your site can be recovered in the event of severe technical issues such as DDoS attacks;
Excellent storage performance; and
Gigabit dedicated network.
VPS unlimited bandwidth.
Pros:
One of the most reasonably priced VPS hosting solutions with unlimited bandwidth;
No caps on just about everything from bandwidth to FTP uploads;
Excellent storage capacity
Cons:
It's hard to make a decision regarding Black Host as it does not give as extensive a background on their services compared to other platforms;
Technical support is often difficult to reach and the manner of some support personnel leaves a lot to be desired;
It takes a while for the platform to set up user accounts and sites
Pricing:
VPS unlimited bandwidth hosting plans range from $11.99 to $26.99 monthly.
Intrigued by Black Host's VPS unlimited traffic hosting? Read their service terms to know more.
>> Check for the latest Black Host VPS unmetered plans pricing today <<
---
Contabo – Best for Cost-Effectiveness
Overview:
Contabo is a VPS hosting service that offers VPS unlimited/VPS unmetered traffic. It is run by a company that has built a stellar international reputation over the course of nearly 20 years. Contabo offers a number of VPS solutions to its global clientele, ranging from cloud VPS unlimited traffic to storage optimized VPS.
Its primary VPS unlimited traffic hosting offerings utilize its own proprietary technologies for virtualization, stability, as well as consistent performance. Also, there's nothing old and run-down here: everything that Contabo uses from its hardware to the different software suites it deploys for clients is state of the art and upgraded to their latest iterations.
This German-developed platform also puts its money where its mouth is in terms of customer support. Quality standards for service are at the highest level and the platform ensures that its support personnel are among the most knowledgeable and personable people throughout the entire industry.
Features:
Intensive workload capacity thanks to AMD EPYC processors;
32TB for outgoing traffic partnered with unlimited inbound data transfers;
Average connection speed of between 200mbps and 1gbps;
Choice between SSD and high-speed NVMe storage solutions for optimal capacity;
Capability to build private networks through a high-speed virtual private cloud which also enables users to run their services in isolation;
Cloud resource automation and management via API or proprietary Contabo CLI;
Centralized management interface for all services and accounts;
Dedicated IPv4 and IPv6 addresses;
DevOps features include custom images and SSH keys;
Full DNS management via proprietary control panel;
Built-in DDoS protection;
VPS unlimited bandwidth.
Runs Ubuntu and Windows, along with other Linux-based or open-source operating systems; and
Instant VPS deployment.
Pros:
Offers some of the most powerful and affordable VPS solutions in the market;
Strong server and data security measures in place;
Extensive global network to ensure business continuity at all times
VPS unmetered traffic offered.
Cons:
Pricing structure is a bit challenging to comprehend;
System may be a bit too complex for those with little to no experience with regard to coding, site creation, and hosting
Pricing:
VPS unmetered traffic hosting plans offered by Contabo range from $6.99 to $34.99 monthly
If you're interested in the VPS unlimited traffic offered by Contabo, take a peek at their service terms first.
>> Check for the latest Contabo discount pricing today <<
---
Shinjiru – Best for Offshore Hosting
Overview:
Despite its very Japanese-sounding name, the VPS hosting platform Shinjiru is actually from Malaysia. While it may not exactly ring a bell unlike other major players in the scene, it has been around for more than 20 years and has data centers in Europe and Southeast Asia.
Features:
Lightspeed cache technology to ensure that websites load rapidly;
Strongbolt security suite;
VPS Unmetered bandwidth;
DDoS protection;
Allows anonymous payments using Bitcoin and other major cryptocurrencies;
Certified domain registrar;
Options for both Windows and Linux users
Pros:
Data centers are well-equipped with failovers, power redundancies, and security systems;
Offers a comprehensive protective network against denials of service;
Offers a generous range of resources for users
VPS unmetered traffic
Cons:
Technical support is on the inept side as we noted that some personnel can only offer surface knowledge or band-aid solutions;
Cryptocurrency payment function is anything but secure;
Sites load slower in the Americas as Shinjiru has no local data centers in the region
Pricing:
Price ranges are dependent on which operating system you're more comfortable working with. For instance, Linux-based VPS unlimited bandwidth hosting with Shinjiru ranges between $11.90 and $31.90 monthly.
Intrigued by Shinjiru's VPS unlimited traffic hosting? Read their service terms to know more.
>> Check for the latest Shinjiru VPS unlimited traffic discount pricing today <<
---
Dreamhost – Best for a User-Friendly Experience
The thing about Dreamhost is that it isn't kidding when it offers unlimited features. Even at its most basic, this reasonably-priced VPS hosting provider offers exceptional managed VPS unlimited bandwidth hosting with built in provisions for server maintenance, software updates, and security patches.
With its entry level plan, Dreamhost offers users 1 GB RAM with 30 GB SSD storage, both of which are easily scalable to 8GB RAM and 240GB for storage. Unlimited bandwidth is guaranteed, but this VPS hosting provider ups the ante by offering unlimited websites as well as email accounts.
Security-savvy users will likewise appreciate the inclusion of free SSL certificates in all VPS unlimited traffic hosting packages – something which is actually offered as an extra you need to pay for with other hosting services.
In terms of performance, Dreamhost VPS unlimited traffic hosting also lives up to its 100 per cent uptime guarantee, but this could be affected by your ISP's own loading speeds.
Key Features:
Unlimited site hosting;
VPS unlimited traffic;
Solid state drives for storage;
Easy to use VPS control panel;
Scalable RAM; and
100% uptime guarantee
Pros:
Unlimited bandwidth VPS hosting offered;
Highly user-friendly interface so it's a seamless experience;
Competent website loading speeds;
Excellent customer service
Cons:
Migrating websites from a different server/host for this unlimited bandwidth VPS may prove challenging;
Some software updates can crash sites;
This VPS unmetered bandwidth is not recommended for those with minimal knowledge of VPS hosting
Pricing:
VPS unmetered hosting plans are reasonably priced, with costs running between $10.00 and $80.00.
>> Check for the latest Dreamhost discount pricing today <<
---
GoDaddy – Best for All-in-One Services
If you're looking for self-managed VPS hosting at reasonable prices, then GoDaddy is worth a look. This is an unlimited VPS bandwidth hosting provider we'd recommend for developers or advanced users/site managers who have good working knowledge of running their own servers.
GoDaddy also spoils customers for choice. It easily offers the most packaged to choose from in terms of unlimited bandwidth VPS hosting services. There are currently sixteen in all – eight for self-managed VPS hosting and eight for managed VPS – and each is based on the number of CPU cores and RAM a user deems necessary for their use. Quick caveat, though: while the self-managed VPS packages are reasonably priced, the cost of managed VPS hosting is nigh on astronomical.
Standard RAM ranges from a modest 2GB to 16GB, while those who need more RAM can choose from plans offering between 4GB and 32GB. Free features include protection against denial of service attacks, a dedicated IP address, and free SSL for a year. For better security, however, you will need to shell out extra.
Key Features:
Unlimited user accounts;
Unlimited bandwidth VPS hosting;
Performance monitoring and alerts so you can get relevant updates;
Backup and recovery console;
Multiple global data centres; and
Root access for developers
Pros:
Easy to use UI so it's beginner-friendly;
Offers periodic discounts;
Good selection of hosting packages
Unlimited bandwidth VPS provider
Cons:
Check-outs can get sketchy as their system tends to add items to one's package without prior warning;
One of the most expensive in terms of managed VPS hosting;
Support options are limited
Pricing:
For VPS unmetered hosting plans, the price range can go from $4.99 to $69.99 monthly.
>> Check for the latest GoDaddy discount pricing today <<
---
OVHCloud – Best for High Traffic Websites
OVHCloud is, by far, the cheapest self-managed VPS unlimited traffic hosting service that we've encountered. Granted that it has fewer features than either of the competitors featured in this VPS hosting provider review, but it's a great choice for those who are just scaling up to VPS hosting from conventional shared hosting.
You can choose a plan with a dedicated server unlimited bandwidth VPS and various other features.
While its primary data centre is located in France, OVHCloud boasts of data centres across the globe. This enables it to provide unlimited bandwidth VPS month after month. But even this has a caveat: unlimited bandwidth will depend on your location, as the farther you appear to be, the service may set a cap on your bandwidth per month.
Likewise, while it boasts of great loading speeds, you would have to check on the uptime every once so often.
Key Features:
Unlimited bandwidth VPS ;
CPanel integration;
Security toolkit;
Ecommerce integration;
CMS support;
Web framework support; and
Database support
Pros:
Lowest rates for self-managed and unlimited bandwidth VPS hosting;
Good range of hosting plans;
Multiple data centres
Cons:
Very little differentiation in hosting plans;
VPS unlimited traffic service may be dependent on location;
Not so great customer support for this VPS unmetered traffic provider
Pricing:
VPS unlimited traffic hosting plans offered by this provider runs between $4.18 and $23.70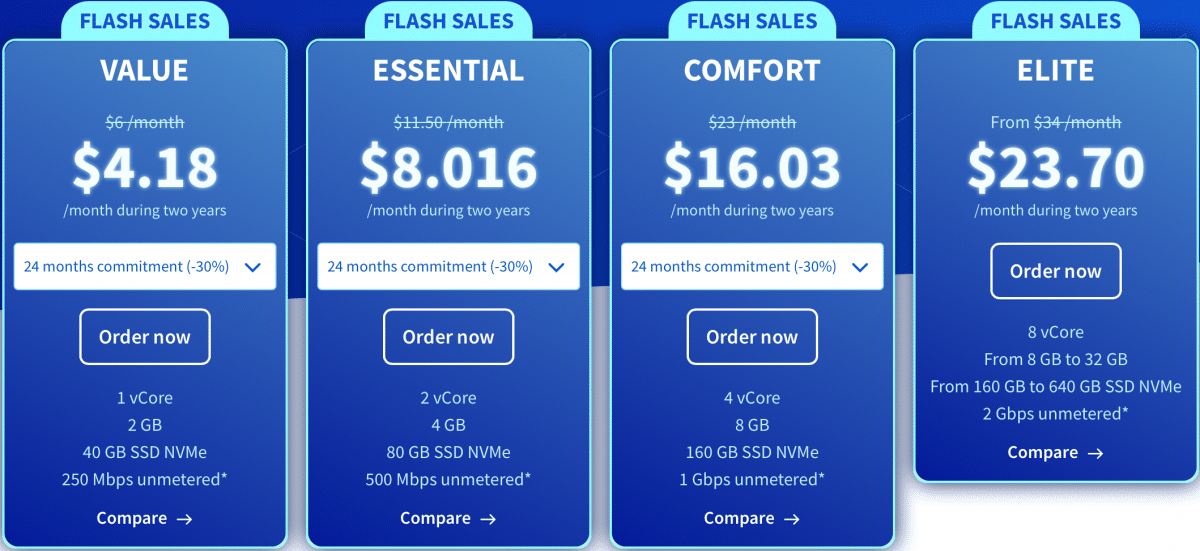 >> Check for the latest OVHCloud discount pricing today <<
---
Conclusion and Recommendation to our Best VPS Unlimited Bandwidth Hosting Providers
Assessing Your Needs
In conclusion, choosing the right VPS Unlimited Bandwidth Hosting provider is essential for ensuring that your website can handle high traffic volumes without sacrificing performance. As you make this choice, it's important to assess your specific needs. Consider the nature of your website – is it an e-commerce platform, a blog, a portfolio, or something else? Knowing this will help in identifying what resources and features are most important for you.
Leading Providers and Noteworthy Highlights
We've highlighted the top 10 VPS hosting providers that offer unlimited bandwidth, with each excelling in different areas. Scala Hosting is at the forefront, with its blend of the custom SPanel control panel and high-speed SSD storage. However, contenders like OVHCloud and Contabo are not far behind. OVHCloud boasts robust infrastructure and a wide range of server configurations, while Contabo shines in the realm of affordability without compromising on essential features.
Security and Customer Support
Beyond bandwidth, security should also be a priority. Providers like Shinjiru and Black.host excel in protecting your data and ensuring privacy. Additionally, having reliable customer support is invaluable. Choose a provider that not only offers unlimited bandwidth but is also there for you when you need assistance.
Budget Considerations
Lastly, let's not forget the budget. While it's important to have ample resources, it shouldn't break the bank. Balance your needs with your budget, and don't be afraid to start small. Providers like GoDaddy and Dreamhost offer cost-effective solutions that still pack a punch in terms of performance.
Making The Final Choice
Selecting the right VPS hosting with unlimited bandwidth is a crucial step that can significantly enhance your online presence. Take your time to weigh the features, security, support, and cost. No matter the nature of your online project, there's an unlimited bandwidth VPS provider that's the perfect fit for your goals. Here's to your success in the boundless world of the web! 🚀💡🔐
Click here for the best Scala Hosting pricing
---
FAQ:
Which VPS unlimited bandwidth hosting service would you recommend for an ecommerce site?
That would be GoDaddy as this platform offers an extensive range of hosting solutions specific to the ecommerce sector.
Should I get self-managed or managed VPS unmetered hosting?
That would depend on how savvy you or your tech team are in terms of server management. Self-managed VPS hosting works best for those who have good working knowledge of server management and it does cost less. However, if you aren't at all that confident with your knowledge, it pays to shell out a little more for managed VPS hosting.
Can any of these VPS unlimited bandwidth providers deliver on their promise?
While both Dreamhost and GoDaddy can assure their users VPS unmetered bandwidth, we take issue with OVHCloud as your location may merit the placement of a monthly bandwidth limit.
---
That's all for now:
If you've read all the way through this VPS unlimited bandwidth hosting companies guide, we are thankful. We hope you can now answer the question of what VPS unlimited bandwidth services can do for you! We have a large collection of articles, guides, and comparison reviews of eCommerce solutions, web hosting providers, website builders, and more! Feel free to check them out;
Please share any comments below!