Do you want to skip the read and get right to my top pick? The best therapist website builder for most people is Squarespace.
---
Introduction to Therapist Website Builder Services:
Welcome to our guide for the best Therapist Website Builder.
What do you use to create the best therapist website?
Therapy, either physical or psychological, has become a necessary thing in these stress-ridden times. But with limitations imposed on social contact to prevent the spread of COVID-19, therapists have had to make adjustments. The advent of meeting technologies like Zoom has helped, but for a therapist to actually have a website of their own is actually a better way to reach out to potential clients/patients.
In today's post, we present our five top picks for the best therapist website builder and how these work to build a flourishing and beneficial online practice.
---
Our Picks for the Best Therapist Website Builder:
Our top five choices for the best therapist website builder are as follows:
Squarespace – best for a visually appealing online presence. (My Top Pick!)
WordPress.com – best for unlimited flexibility and integrations
Webflow – great unctionality + scalability
Weebly– best for easy of use, great for beginners
Wix – diverse templates and features
---
Quick Comparison Table for the Best Therapist Website Builders:
Rank
Platform
Key Features
Pricing
My View
Try for Free
1
Squarespace

(My Top Pick!)

Beautiful, professional templates, appointment scheduling, blogging, SSL security
Starting at $12/month
Best for therapists seeking an elegant, visually appealing online presence. Also offers a range of tools useful for a therapy practice.
Try Squarespace For Free
2
WordPress.com
Extensive customization options, plugins for appointment scheduling, blogging, secure patient portal
Starting at $4/month
Best for those wanting maximum customization. It requires more technical skill but offers robust features for a therapy practice.
Try WordPress For Free
3
Webflow
Customizable design, CMS for blogging, integrates with third-party appointment scheduling
Starting at $12/month
Great for therapists who need a customized and professional looking website with blogging and appointment scheduling.
Try Webflow For Free
4
Weebly
Drag-and-drop website builder, appointment scheduling, blogging
Starting at $6/month
Good for those who want an easy-to-use platform with necessary features for a therapy practice.
Try Weebly For Free
5
Wix
Wide range of templates, blogging, appointment scheduling
Starting at $14/month
Offers a variety of templates and customization options. The platform is user-friendly and it has the necessary features for a therapy practice.
Try Wix For Free
---
Why Would a Therapist Need a Website?
A therapist site – either a psychotherapy or physical therapist website – serves as a safe way for a specialist to be able to meet with clients, as well as to provide insights on new trends in their field such as new modalities for treatment or the management of conditions.
Therapist website design is a crucial thing here, as is functionality. A therapist website with a calendar function allows clients or patients to stay abreast of their therapist's schedule and plan their own visit – virtual or otherwise – accordingly. Therefore, a therapist website builder would make your practice more convenient and visible online.
---
How We Chose the Best Therapist Website Builder:
As with all of our top five site builder reviews, our five top website builders for therapists were selected based on criteria specific to their requirements as professionals. These include
Ease of Use – Given the number of patients or clients that a therapist sees on any given day, it is highly unlikely that they would have the time to code the backend of their websites. Instead, what they need is either a drag and drop builder or an AI-driven interface that can easily generate the best therapist website based on given parameters;
Industry-appropriate Aesthetic –  Plus points go to a building platform if they offer templates that are specific to therapist website design. Stock galleries for these platforms may also include images related to healthcare, mental health, and wellness;
SEO Tools – What's the point of having a website if people can't find it? While word of mouth is all well and good for promotion, having a good set of SEO-specific tools at one's fingertips goes a long way to building up one's practice online;
Blog Builders –  Blogging, especially writing about topics specific to the practice of one's profession such as new modalities and treatments, is a great way to engage clients and encourage them to take a more proactive view towards their well-being; and
Contact Forms and Direct Scheduling – This enables users to coordinate with their clientele on matters like appointment setting, follow-ups, and status checks.
---
Our Choices for the Best Therapist Website Builder in Detail:
1. Squarespace – My Top Pick for the Best Therapist Website Builder!!!
Overview:
As a therapist website builder, Squarespace is the perfect option for therapists on the go as any site created with the platform has already been optimised for mobile devices. This also means site users don't have to make any adjustments while working on them. While the platform doesn't offer therapy website design or templates specifically, users can easily customise templates in the Local Business category for their use.
There are several sites with therapist website designs made with Squarespace.
The block-style editing interface may take some time to get used to, but it's a cinch to create an engaging site by dragging and dropping blocks of content into one's layout.
Since Squarespace is ecommerce-centric, users can add scheduling and blogging features to their Squarespace therapist website.
Features:
Event calendar function;
Appointment scheduler;
Map blocks;
Blog creator;
Unlimited bandwidth and storage
Pricing:
Standard rates and pricing packages are as follows:
Read through their terms of service before you commit.
---
WordPress.com
Overview:
When it comes to WordPress, we would recommend that therapists consider a small investment into a Business plan for their use. Why? This will given them a whole range of plugins to work with, adding functionality and ease of use to their websites, as well as the ability to scale up their practices over time.
There are plenty of third-party therapist WordPress themes you can pick. There's also a Local Business theme category that offers numerous templates with functional features, including appointment booking and online services. That said, this makes WordPress a great platform for presenting one's specialisations to clients.
Take a look and pick among excellent therapist website designs and themes for WordPress.
Features:
CMS site creator / editor;
Booking Calendar plugin;
WooCommerce and similar ecommerce plugins for online payment;
Yoast SEO so you can take care of your site's ranking; and
Feature for creating a premium services area
Pricing:
Standard rates and pricing packages are as follows:
Be sure to check out their service terms before you subscribe.
---
Webflow
Overview:
For therapists who simply need a landing page for their services, Webflow would be the best way to go. Specifically, the platform offers an extensive range of templates that can be customised for one's practice. Even better, the block-driven site builder makes creating engaging pages a snap.
Features:
Over 100 design templates, including options to create therapist website design;
Block-driven site builder;
Extensive range of third-party applications so you get the most functionality; and
Scalable solutions for ecommerce and marketing
Pricing:
Standard rates and pricing packages are as follows:
Check out their service terms if you're interested in a subscription!
---
Weebly
Overview:
If you want to keep things simple yet functional and efficient, then Weebly should be the choice for creating your therapy website.
Along with over 60 mobile-responsive themes, this anything-but-basic builder has a number of tools – including integration with several payment gateways – to ensure a safe and secure browsing and therapy experience for one's clientele. Likewise, its App Market offers numerous options to enhance functionality and engagement for your site.
Features:
Intuitive drag-and-drop website builder so you have a hassle-free experience;
Excellent therapist website designs and templates;
SEO toolkit so you can make sure you get good site rankings;
Ecommerce toolkit so you have everything you need to create your online store; and
In-platform applications marketplace for third-party integrations
Pricing:
Standard rates and pricing packages are as follows:
Interested in Weebly? Then better understand their service terms before you subscribe.
---
Wix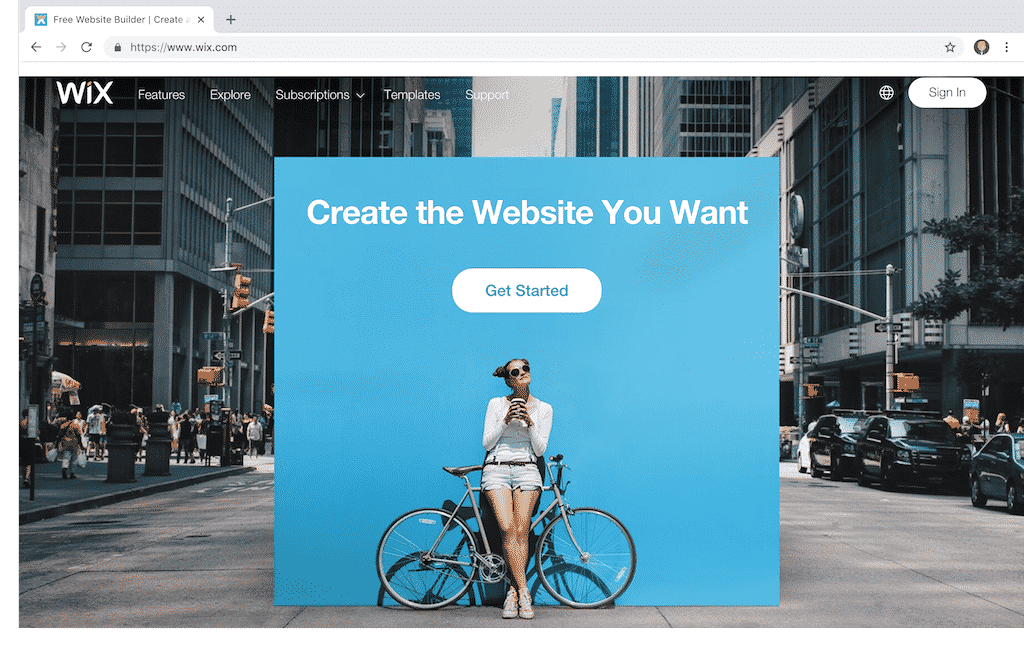 Overview:
Being one of the easiest to use site building platforms available, Wix is already an easy sell to those who have neither the time nor the skills to build a website from scratch. But what makes it an even better choice for therapists is that it offers the best therapist website design, as there are seven templates specifically created for therapists. These templates are already segmented into useful sections such as contact details, biographies, even one's body of research.
Features:
One of the easiest drag-and-drop builders available;
AI-driven site creator for those who are short on time;
Seven industry-specific templates, including several therapy website design options;
Wix Bookings scheduling app; and
SEO toolkit
Pricing:
Standard rates and pricing packages are as follows:
Do your diligence and read their terms of use before committing.
---
Conclusion and Recommendations for Best Therapist Website Builder:
WordPress and Squarespace come away as the best equipped in terms of the tools and templates necessary to create a compelling and engaging website for therapists, but the fact that several of our choices also have scheduling applications or widgets also works in their favour.
But, as with our other reviews, we suggest that therapists should also shop around for viable options that would enable them to create the best possible websites and patient engagement experiences for their clientele.
---
FAQs:
I'm none too keen on having to choose templates, so which of these has templates I can use immediately?
Wix has seven templates that were specifically created for therapists and mental health professionals. The others offer business-oriented templates, but these need to be modified before use.
Is there a platform with a built-in scheduling / monitoring app I can use?
Wix offers Wix Bookings, WordPress works with Event Espresso which is a compatible plugin, and Squarespace has its own scheduling system built in.
I need a blogging platform as I write articles specific to my field of specialisation. Which platform would you recommend?
Both Squarespace and WordPress work well as blogging platforms and these also have features for making your work more engaging for readers.
---
That's all for now:
If you've read all the way through this best therapist website builder guide, we are thankful. We hope you can now answer the question of what is the best therapist website builder option for you! We have a large collection of articles, guides, and comparison reviews of eCommerce solutions, web hosting providers, website builders, and more! Feel free to check them out;
Please share any comments below!