Do you want to skip the read and get right to my pick? The best eCommerce platform for the very large eCommerce businesses between Shopify vs BigCommerce vs Magento is Shopify.
---
Introduction to our Shopify vs BigCommerce vs Magento Comparison:
Which of these online store builders work best for you – Shopify vs BigCommerce vs Magento?
One of the key challenges of the eCommerce sector, especially now that even companies in the very large enterprise (VLE) sector are making the shift from brick and mortar to online and wired. But with the sheer number of ecommerce builders currently available, how do companies decide on what to use given the immense volume of transactions they need to deal with every day?
In this review, we see how each of these platforms stacks up in terms of functionality, eCommerce capabilities, the stability of their hosting services, and – of course – pricing.
---
Overview: Which Enterprise Solution Is Best?
But, before we dive into our Shopify vs BigCommerce vs Magento review, here's a quick look at the competitors:
Shopify:
It may look like the underdog in this context, but you do not easily set back a platform that boasts over a million users. And the numbers are still growing! While it may have started to deal with the demand for a website builder specific to the ecommerce sector, Shopify has become the ecommerce builder of choice in more than 175 countries. It has given online businesses a leg up by giving them the tools with which to grow their market base.
BigCommerce:
Let us rattle off some big names that have this Texas-based developer as their software as a service (SaaS) provider of choice: Toyota Motors, Harvard Business School, Davidoff, Ben & Jerry's, and Martha Stewart. Of course, they are just a few among BigCommerce's 100,000-strong customer base. With clients as big as Toyota and the Harvard Business School, you certainly don't want to mess with the software as a service (SaaS) provider from Texas.
Over the past decade, BigCommerce has grown to a network that's now 100,000 websites strong. Throughout its run, the platform is considered a godsend for companies that are scaling up their operations.
Magento:
A year older than BigCommerce – it was founded in 2008, Magento plodded placidly along until ten years later when the Adobe Corporation acquired it (yes, the Photoshop people.) Today, the open-source platform boasts over 500,000 sites to its name, and its framework has been downloaded by over 2.5 million users worldwide. To date, it has hosted sites that have sold more than $155 billion worth of goods and services, resulting in the platform's current market share of between 20 to 30 per cent.
Aside from the base comparison among these three platforms, you can also throw Volusion into the mix and compare Volusion vs Shopify vs BigCommerce vs Magento.
---
Ease of Use:
How do our competitors fare in a Shopify vs Bigcommerce vs Magento battle for the most user-friendly enterprise solution?
Shopify:
Intuitive and easy to use from the word go, Shopify has the advantage of being ready to use almost as soon as you've registered and signed in. The fact that it's intuitive means that the system eventually learns how you work, adjusting itself accordingly over time to make creation easier.
BigCommerce:
Admittedly, BigCommerce is a challenging platform to work with if you're a novice, but it's quite easy to use if you have some experience coding and building sites from scratch. Otherwise, you're going to need to sit down for a couple of hours to figure out where everything is and how it works. Still, it's easier to use than Volusion which complicates things by having separate user interfaces (UIs) for each site's front- and back-end; once you've figured BigCommerce out, site creation becomes quite easy.
Also, BigCommerce is among the first platforms (along with competitor Squarespace) to appeal to those working in the gig economy by allowing businesses to offer services and digital downloads aside from physical merchandise.
Magento:
We're going to go ahead and say it: Magento is not for the faint of heart. Because the platform was created to build websites for bigger businesses (medium-scale corporations testing the waters of scaling up, particularly), it was not meant to be used by those who are complete novices at site building. In fact, it is assumed that those using Magento may have intermediate to advanced programming and coding skills or that companies have a dedicated IT team who will be managing their account on the platform. To be fair, though, Magento's open-source nature enables businesses to create their own bespoke online storefronts.
If you analyse BigCommerce vs Shopify vs Volusion vs Magento, Volusion is not something that beginners would choose. The interface is a bit daunting, and you should expect a considerable learning curve.
Winner – BigCommerce! in this Shopify vs BigCommerce vs Magento 'Ease of use' comparison. If you're going down to the brass tacks and considering the size of the business using the platform, we're giving this to BigCommerce.
---
Features and Flexibility:
Shopify vs BigCommerce vs Magento Out-of-the-box:
Shopify:
Multiple retail channels are a major come-on for Shopify users as it allows them to sell their goods to a wider, more diverse audience. The platform also boasts numerous features – and the intuitive site builder is just the tip of the proverbial iceberg at this point. As it is also an ecommerce-specific SaaS, Shopify offers multiple staff accounts, POS capabilities, on and offline marketing tools, and various provisions for international transactions.
BigCommerce:
Once you've gotten a feel for the BigCommerce UI, site creation is a breeze. Along with tools for those in the service sector, its retail suite is nothing to sneeze at: back-of-the-house store management tools, productivity solutions, and tools for shipping, delivery, and even customer feedback are all part of the package.
Magento:
At its most basic – specifically the free edition of its open-source platform – Magento's UI is rich, diverse, and useful, covering all the bases from site creation and storefront management to SEO and marketing. The premium version, Magento Commerce, offers even more bells and whistles – but we recommend that you think about it first as, like Volusion, more extensive functionality comes at a significantly high price.
Magento vs BigCommerce vs Shopify Themes and Templates:
Shopify:
For what is essentially a mid-tier (in terms of client scale and not customer numbers) platform, Shopify has a fairly diverse gallery of themes. To date, Based on the latest count, Shopify offers 9 free templates and 64 paid ones. in a variety of aesthetic and functional configurations for users to choose from – and this is extensive when you realise that competitors like Volusion only offer around 45 to 50. Note that the number includes both free and premium themes.
BigCommerce:
Diversity comes at a price, but many BigCommerce users are happy to pay the $300 charged per premium template. There are currently 162 templates in all, twelve of which are free to use. While $300 sounds like a very steep price to pay (keep in mind that Volusion templates will set you back $180,) the fact that each template has three colour variations that will enable users to choose a palette in keeping with their visual branding standards means that the money is well spent. Also, of the three platforms in review here, it has the most number of available options.
Magento:
Unfortunately, you're going to need to do some serious Photoshopping where Magento is concerned. (As it's part of the Adobe Group, this should not have come as a surprise.) Users need to come up – well, build – their own templates for any site they create with Magento. While this is advantageous in the sense that it allows users to make a bespoke site in keeping with their brand standards, it also takes a significant amount of time as a company's in-house team has to build a template first before they can actually work on the main bulk of the site. Alternatively you can look to buy premium templates by visiting a major theme provider in this arena such as Template Monster.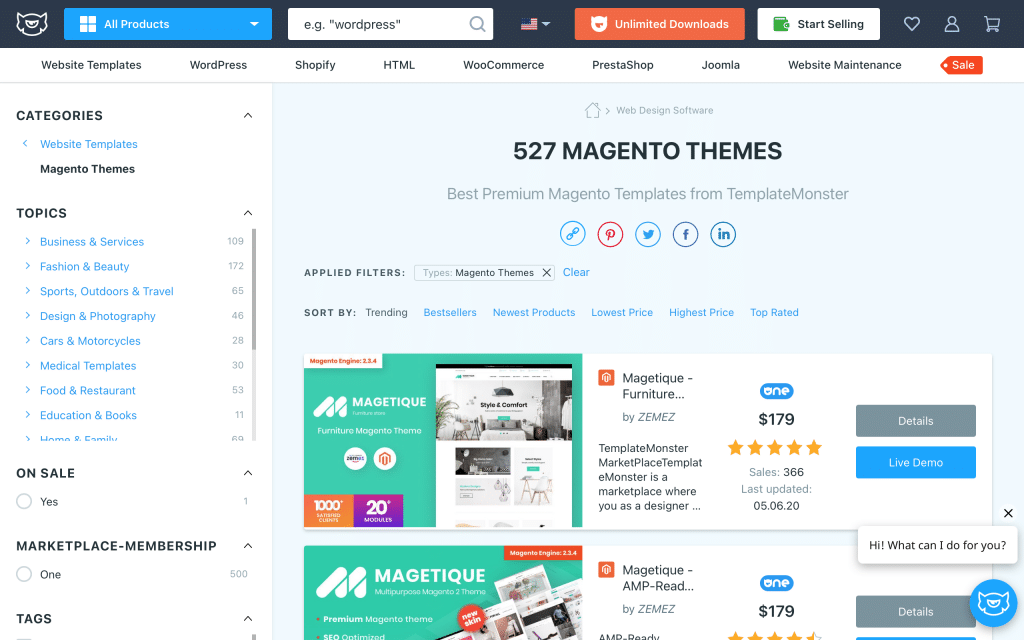 If you compare BigCommerce vs Volusion vs Shopify, Volusion doesn't excel in design, offering only 45 templates, 11 of which are free.
Shopify vs BigCommerce vs Magento Customisation Tools:
Shopify:
Unfortunately, advanced customisation is one of Shopify's Achilles' heels: you need a third-party tool to create a custom look for your site or have an independent developer create custom widgets to improve its functionality.
BigCommerce:
Built-in customisation tools are BigCommerce's advantage for creating a unique look for an online storefront or enhancing the user experience (UX) through bespoke widgets and dialogue boxes.
Magento:
As with Shopify, Magento users need to buy a third-party theme generator or a platform extension to create custom features like a payment gateway or discounting system.
Magento vs Shopify vs BigCommerce 3rd Party Integrations:
Shopify:
Current count at the Shopify App Store: more than 6,000 third-party applications ranging from productivity tools to inventory management solutions. Featuring both free and premium programmes, the selection has been most helpful to users. So much, in fact, that 90 per cent of Shopify users have downloaded at least one app from the marketplace to enhance their storefronts.
BigCommerce:
Your marketplace needs to offer an extensive range of tools when you handle both retail hubs and gig-driven sites. BigCommerce delivers in this respect by stocking everything from scheduling apps for those working the gig economy and internal communication apps, to tools for marketing, payment, shipping, currency support, and language support.
Magento:
The Magento Marketplace offers over 300 apps and programmes. While the selection is extensive, the price charged for each one may be seen as a setback for smaller companies.
Hosting:
Shopify:
Shopify is a bit old-school because it's still hosted via content deployment network (CDN) where sites are hosted on various servers in different locations. While this has worked for over a decade, recent data breaches and hacking incidents have made users ask whether the platform should step up its game and rethink the hosting setup.
BigCommerce:
Using Google Cloud as the framework of its hosting service has ensured that BigCommerce delivers 99.99% uptime and rapid page loading for all sites hosted on the platform. In doing so, the platform assures users of constant business continuity and safer transactions.
Magento:
Magento Commerce is self-hosted, but those using the open-source version need to get a third-party service to house their sites.
It is interesting to note that all three platforms offer domains for their services and an SSL certificate for better online security.
Volusion:
Unfortunately, on platforms like Volusion, users need to pay additional for such features.
Backups:
Shopify:
The platform falters here as automated backups are nonexistent in the UI. Instead, users need to save their stores' information into *.csv files. However, information you can back up is limited to financial transaction data, customer information, and individual products. In which case you're going to be better off with a third-party app to help you out like Rewind.
BigCommerce:
BigCommerce has no native backup facility. Instead, the platform on third-party backup tools facilitates data retention, with Rewind being one of its favourite tools.
Magento:
In its current iteration, scheduled backups are built into the Magento UI. However, the feature is disabled by default, and you'll need to grab hold of a developer to activate it for you.
BigCommerce vs Shopify vs Magento Migration:
Shopify:
A downloadable Store Importer (available through the in-platform App Store) allows users to move whole sites from several platforms. For example, you can move house to Shopify from Etsy, Squarespace, and Weebly eCommerce.
BigCommerce:
Limited is the best way we can describe BigCommerce's migration process. Right now, tools for moving important data like customer and inventory lists from a site built off-platform to one's BigCommerce account are built into the UI, but you can't, as yet, move your whole site.
Magento:
Like BigCommerce, you can't move the whole site from, say Shopify, to Magento 2, but you can carry over important data, which you will need to save as *.csv files manually.
Winner – Shopify! in this Shopify vs BigCommerce vs Magento 'Features and Flexibility' comparison.
---
SEO and Mobility:
Shopify vs BigCommerce vs Magento SEO:
All three platforms offer a range of SEO tools that make metadata management so much easier, and sites become more noticeable on the most popular search engines.
Mobile:
All three platforms can create sites optimised for mobile viewing, and all have store management apps that can be downloaded for both Android and iOS. In BigCommerce, the Android edition of the app actually has more features than its Apple-specific counterpart. However, Magento's open-source mobile app can leave users befuddled as it will cost $300 – for the app and a corresponding service agreement.
Shopify vs BigCommerce vs Magento PageSpeed:
BigCommerce takes the lead here, speeding in at 2.40 seconds; Magento loads in 2.45, and Shopify comes in third at a respectable 2.59.
Winner – Shopify! In terms of overall functionality, we need to give this to Shopify in this Shopify vs BigCommerce vs Magento 'SEO and Mobility' round of this comparison.
---
eCommerce Tools:
Shopify:
The platform's current tool suite includes shopping cart management, customised search tools, solutions for productivity management, distance collaboration, international transactions, and payment.
BigCommerce:
BigCommerce has solutions for service providers, gig scheduling, digital merchandise, and order processing on top of its retail management suite of services.
Magento:
Ecommerce-specific tools include order management, business analytics (marketing and metrics), and solutions for payment, taxation, and international shipping support.
Winner – BigCommerce! in this Shopify vs BigCommerce vs Magento 'eCommerce tools' comparison. While all three platforms perform well when it comes to the selection of ecommerce tools, we consider BigCommerce better-equipped for large enterprises.
---
Support and Resources:
Both Shopify and BigCommerce come shining through with multiple channel contacts and regularly updated knowledge bases when it comes to round-the-clock technical support. Community forums also offer a wealth of support options on a peer-to-peer basis.
Unfortunately, Magento can be a source of stress even for more experienced users. Getting through to customer care and the knowledge base is a challenge at best, but, fortunately, its community is very active when it comes to sensible advice. Unfortunately, as with practically everything with Magento, expert-level advice is something you pay for.
Winner – Draw! between Shopify and BigCommerce tie in this 'Support and Resources' category of this Shopify vs BigCommerce vs Magento comparison.
---
Shopify vs BigCommerce vs Magento Pricing:
Shopify:
These plans will set you back between $29.00 to $299.00 monthly, depending on your subscription. All subscriptions offer the site builder access to technical support, as well as tools for SEO and ecommerce. Note, however, that analytics are only available to users in the top tiers.
As stated on their terms of service page, the platform offers a 14-day trial, letting you wade through Shopify first before committing.
BigCommerce:
The platform's standard price range is $29.95 to 299.95 a month for subscription plans, but you will need to read the fine print to determine what exactly you're getting. Also, depending on your revenue range, you may be charged a 2% fee per transaction.
As stated on their terms of service page, the BigCommerce page builder offers a 15-day free trial.
Magento:
While Magento's open-source edition is free to download, Magento Commerce will come at a price.
As a minium;
A Domain name with GoDaddy.
Premium eCommerce hosting with Nexcess.
Site Security with Sucuri.
The greater the functionality and size of your online store, the more you will pay for in terms of related apps and increased hosting costs. An example here is that while some of Magento's apps are free, the ones that cost come with and installation and annual fee. This can often be seen at around $100 per app per year. As mentioned, the more paid for apps installed, the greater your cost.
Another cost consideration that may need to be take in into account is the potential of hiring a Magento eCommerce development team. If this option is taken then there is a fairly hefty financial investment involved, although you should expect an 'all singing, all dancing' site set up for this outlay.
Those companies looking to use the Enterprise version need to understand that Magento themselves set this up for you. This moves things up quite dramatically from a cost point of view. Indeed, there is no openly published price list on their website. You need to complete a contact form detailing your company and needs. Dependent upon what you are after, rumour has it that you will pay anything from £10,000 per annum and well in excess, dependent upon your needs.
Winner – Draw! Again, Shopify and BigCommerce tie in this in this 'Pricing' category of this BigCommerce vs Magento vs Shopify comparison. – also, we prefer them because of the transparency. What you see is what you get and you don't have to disclose sensitive information regarding your business.
---
Shopify vs BigCommerce vs Magento Comparison Winner:
Shopify is a great all-rounder that is easily scalable and our Comparison Winner. This is because Shopify delivers best when it comes to offering a sensible, scalable, and practical package to larger businesses.
---
Conclusion and Recommendation to our Shopify vs BigCommerce vs Magento Comparison:
What is Shopify best for?
Shopify is best for small and mid-sized businesses with prospects for scaling up.
What is BigCommerce best for?
BigCommerce is the best platform for large businesses with complex and substantial requirements.
What is Magento best for?
Magento is only for those veteran store owners with an established online store model.
Shopify vs BigCommerce vs Magento Alternatives:
Here's a list of the best Shopify vs BigCommerce vs Magento alternatives to create a an online store:
| Rank | Key Features | Price (Basic Paid Plan) | Transaction Fee | My View | |
| --- | --- | --- | --- | --- | --- |
| 1. Shopify | Comprehensive e-commerce features, large app store, excellent SEO tools | $29/month Check Pricing | 2.9% + 30¢ per transaction (for online credit card rates) | Ideal for most online stores due to its comprehensive features | Try For Free |
| 2. Squarespace | Beautiful templates, great for small to medium-sized stores, powerful marketing tools | $12/month Check Pricing | None (but payment processor fees apply) | Great for creatives and those who need a visually stunning online store | Try For Free |
| 3. Webflow | Deep customization options, good for web designers, CMS features | $12/month Check Pricing | 2% on customer's checkout total | Best for designers needing high degree of customization | Try For Free |
| 4. Square Online | Syncs with Square POS, good for small to medium-sized stores, unlimited products | Free to start, e-commerce from $12/month Check Pricing | Yes, 2.9% + 30¢ per transaction | Great for existing Square POS users | Try For Free |
| 5. WooCommerce | Open-source, highly customizable, requires WordPress | Free Check Hosting Pricing | Depends on payment gateway used | Best for WordPress users and those who want total control | Try For Free (with Nexcess Hosting) |
| 6. Wix | User-friendly, great for small stores, wide range of templates | $14/month Check Pricing | None (but payment processor fees apply) | Great for small businesses or beginners | Try For Free |
| 7. Big Cartel | Designed for creators and artists, easy to use, limited features | Free for up to 5 products, plans from $9.99/month Check Pricing | None (but payment processor fees apply) | Ideal for artists and creators with smaller product lines | Try For Free |
| 8. Ecwid | Can be integrated into any website, good for small to medium-sized stores | Free for up to 10 products, plans from $15/month Check Pricing | Depends on payment gateway used | Good for those who want to add a store to an existing site | Try For Free |
| 9. Volusion | Good inventory system, comprehensive e-commerce features | $29/month Check Pricing | None (but payment processor fees apply) | Good for medium-sized businesses | Try For Free |
| 10. Weebly | Easy to use, good for small stores, powered by Square | Free to start, paid plans from $6/month Check Pricing | 2.9% + 30¢ per transaction | Good for small businesses or beginners | Try For Free |
Shopify vs BigCommerce vs Magento Final Word:
While we stick by our well-considered decision for this review, we recommend you take a good look at the available options for blogging and site-building and make your own comparisons for a platform that suits your needs.
Take advantage of free trials offered by eCommerce platforms to see if you mesh well together.
---
That's all for now:
If you've read our Shopify vs BigCommerce vs Magento comparison up to here, we are grateful. Remember always to keep abreast of the latest developments on website builders, eCommerce, and other articles, such as the ones below;
Please share any comments below!