Do you want to skip the read and get right to my pick? Between Redbubble vs Zazzle, the better print on demand platform is Redbubble.
---
Introduction to Redbubble vs Zazzle Comparison:
You're reading our comparison of Redbubble vs Zazzle!
Print on demand sites have been a boon for many creatives. Those who had trouble keeping jobs throughout the pandemic have benefited from it. Indeed, it is a blessing for those who have long thought about turning hobbies and creative pursuits into meaningful careers.
Today's Redbubble vs Zazzle review will show two such platforms and compare them in detail. Our comparison of Redbubble and Zazzle seeks to know which platform is more advantageous for creatives when it comes to ease of use, features and functionality, and even earning capacity.
---
Overview of Redbubble and Zazzle:
Redbubble:
It's a print on demand marketplace/platform that has been operating for the better part of sixteen years, having been established in 2006. Redbubble began as a way for Australian creatives to express themselves and find a viable market for their work. Today, the platform is now 700,000-users strong with a customer base. Several million fans come to the site to discover new artists and designers and buy their merch.
What makes Redbubble a socially-relevant enterprise is a sustainability program focused on both carbon-neutrality and the promotion of safe working conditions for the people helping suppliers produce different items for the platform's users. Local outsourcing also ensures that its carbon footprint remains small and manageable.
Zazzle: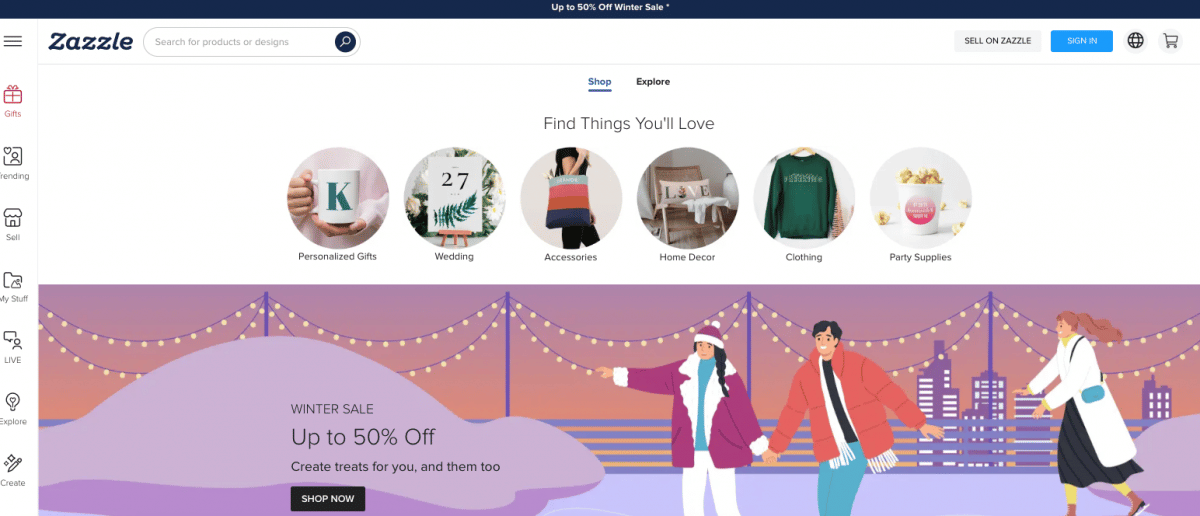 Zazzle came into being a year before Redbubble as it was established in 2005 by siblings Robert, Bobby, and Jeffrey Beaver in Redwood, CA as a home-based business.
Today, the platform boasts of 700,000 users offering around 300 million unique types of products to a clientele that is currently 30 million strong.
Its primary selling point is that it enables designers to collaborate with independent manufacturers to create a series of truly unique items based on their own designs, as well as images taken from partner companies. To date, Zazzle has partnered with the likes of media giants Disney and Warner Brothers.
---
Ease of Use:
Redbubble:
This unique online marketplace/print-on-demand hub makes things so much easier for both creatives and their customers, as all you really need to do is create an account on the platform.
Thanks to its easy sign-on process, creating a Redbubble account is easy as pie. Almost immediately afterwards, you can go into your profile page, click the Add New Work button, and start uploading your designs.
Keep in mind, though, that you will need to upload your graphics in PNG format for the best possible printing quality in the finished product. Plus, all designs need to support a CMYK profile for faster, stress-free printing and it is also recommended that your backgrounds be transparent.
Zazzle:
Register, create your store, post a variety of products, and start selling then earning – yes, Zazzle's onboarding process is that simple and your store will be up and running in less than an hour.
The beauty of Zazzle is that there are no hidden fees, there's no need to buy a domain, and this is a platform that relies on more than just one or two graphic formats to help their users get the job done.
Indeed, Zazzle accepts image files in JPG, PNG, SVG, PDF, and Adobe Illustrator files within a resolution range of between 150 and 300 pixels per inch depending on the item you're planning to put the image on.
Winner – Draw! All things considered, this ease of use round between Redbubble vs Zazzle is tied.
---
Redbubble vs Zazzle Features:
Out of the box:
Redbubble:
Simple Three-step Workflow
Using Redbubble only has three key steps for users. Initially, the user must create their designs and familiarise themselves with the Redbubble UI. Second, one selects the product on which they want to have their design printed, looking over more than 70 available options at their fingertips. Finally, once the choice has been made, they need to determine how much they want to charge for the finished item. Everything else that follows afterwards is taken care of by Redbubble;
Open-ended Call for Creatives
The beauty of Redbubble is that it does not discriminate when it comes to the art it accepts in its UI for production. Indeed, everyone from graphic designers to fan-artists can contribute and produce items within a wide range of categories; specifically: apparel, tote bags, shower curtains, art prints metal prints, stickers and stationery, phone cases and accessories, wall art, home accessories and lifestyle products, kid-friendly items, and personal accessories. Having said this, many independent artists find that it's much easier to work with Redbubble than it is with other print on demand hubs. All they really need is to set a price and they're good to go;
Zazzle:
Design Services
Referred to in-platform as Zazzle Live, the design service allows users to consult with an actual designer as to the best approach to take with their work. While it will cost you (you get charged a flat fee to work with a designer), you get the benefit of working with an expert in real time and even have someone look into your design, make the necessary edits, or even write compelling copy to go with your design;
Open Personalisation
Need a custom gift? Zazzle has you covered. The platform covers all the bases when it comes to creating specific items for certain occasions, gender-specific items, and even gifts within specified age ranges.
Themes & Template Design:
Redbubble:
Redbubble offers a variety of templates and does not discriminate when it comes to the art it accepts in its UI for production. As a result, everyone from graphic designers to fan artists can contribute and produce items within a wide range of categories; specifically: apparel, stickers and stationery, phone cases and accessories, wall art, home accessories and lifestyle products, kid-friendly items, and personal accessories.
Zazzle:
Zazzle's mockup generator is a great way users can see how a wide range of designs will look on an object before they commit to full-stop production. The mockup generator tool allows users to put designs on both small and large objects, enabling them to make adjustments in terms of image placement, size, and even colour prior to offering the product on their Zazzle store.
3rd party apps market:
Redbubble:
The platform has no third-party integrations.
Zazzle:
Zazzle integrates with other tools via API. It can also integrate with WooCommerce, Canva, and Shopify.
Security:
Redbubble:
Redbubble lets you know if there are threats and vulnerabilities to your site. You may encounter several vulnerabilities listed under the OWASP Top 10, remote code execution, and vulnerabilities related to authentication and authorization. Once these issues are reported, the tech team steps in to resolve the issue.
Zazzle:
Zazzle protects seller and buyer information via the transport layer security software ("TLS"). This tools encrypts all data you input before it is sent to the platform.
Winner – Redbubble! All things considered, we are giving the win on features to Redbubble in this Redbubble vs Society6 comparison.
---
Redbubble vs Zazzle eCommerce Tools:
POS:
Both Redbubble and Zazzle do not offer POS features.
Abandoned cart saver:
The platforms under review don't offer this feature.
Payment Gateways:
Redbubble:
You can use either a business or personal PayPal account to be able to sell on Redbubble.
Zazzle:
The following payment methods are accepted: all major credit and debit cards, PayPal, and Klarna.
Winner – Draw! Both Redbubble and Zazzle are evenly placed in terms of eCommerce features.
---
Redbubble vs Zazzle SEO & Marketing:
SEO:
Both Redbubble and Society6 don't come with SEO features, but they do offer tutorials on how to optimize your pages for search engines.
Mobile First:
The Redbubble app is available for both iOS and Android devices while Zazzle is available also for iOS and Android.
Marketing:
Redbubble:
Metrics and Analytics
This is a feature that we found a pleasant surprise; it's not often that you have an integrated ecommerce platform and print on demand service that has the ability to tell a user how well their shop is doing online. Redbubble gives its users regular updates on how much traffic they're getting within a given time period, along with how many products have been sold within the same amount of time. Demographics as to the age and location of customers is also given, enabling users to calibrate their product offerings for emergent markets;
Social Media Integration
Today's social media-linked world means that creatives need to have an active presence on leading networks like Facebook and Instagram. Redbubble makes this possible by allowing users to connect their shops to their social media accounts on different platforms to gain both a loyal following and sell their work to the audiences that matter the most to them.
Zazzle:
Zazzle allows you to promote your products and materials via social media such as Facebook and Instagram. It also uses real-time marketing analytics to determine trends and attract a specific audience.
Winner – Redbubble! While both platforms have extremely useful features, we have to give this win to Redbubble for this Redbubble versus Zazzle features comparison.
---
Support and Resources:
Redbubble:
Even if you're just learning how to use Redbubble, the platform makes it a great deal easier to navigate through it via its video-centric knowledge base RBTV. This unique YouTube channel offers numerous tips and tricks that users can implement, making their creative and mercantile experience more meaningful over time.
Likewise, Redbubble also has a text-centric knowledge base which covers everything from shopping, buying, designing, selling, and even offers guidelines for fan art that protect both artists and the original creators.
However, online customer support is limited to direct messaging on-site or through Twitter and Facebook Messenger.
Zazzle:
Support and interconnectivity are practically the only two real issues we have with Zazzle.
For one thing, Zazzle offers no third-party integrations with any of the leading ecommerce platforms.
Nor does it offer interconnection with leading online marketplaces like Amazon and eBay.
For another, it only offers technical support through its online Help Centre and one-on-one support is limited to phone calls which may only be done during business hours.
Winner – Draw! Things are leveled between Redbubble vs Zazzle in the support category.
---
Redbubble vs Zazzle Pricing:
Redbubble:
Pricing is where Redbubble differs from the competition. Everything that can be bought on site has a specific price and markup is determined by individual creators.
Likewise, getting paid for one's work is also easy, but you will need to hit a threshold before you can start collecting your payments.
Click for the latest Redbubble pricing
Zazzle:
Prices are determined by the base price set by the platform for different products and the markup you need to set yourself. Zazzle offers a 15% per sale standard commission rate, with a 17% volume bonus.
All earnings are reflected in the Earnings Dashboard located in one's account page.
Click for the latest Zazzle pricing
Redbubble vs Zazzle Free trial, refund policy, and money-back guarantee:
Users may create accounts on Redbubble for free. Meanwhile, creating and managing a store account on Zazzle is free, and you only need to pay for custom items. You may keep the profits and set your own rates for royalties and retail pricing for individual items.
Based on Zazzle's terms and conditions, there's a 30-day refund policy. Meanwhile, Redbubble's user terms provides for returns within 90 days of delivery receipt.
Winner – Draw! Things are tied between Redbubble vs Zazzle in the pricing category.
---
Comparison Winner: Redbubble or Zazzle?
Redbubble is the winner in our Redbubble vs Zazzle comparison test!
---
Conclusion to our Redbubble vs Zazzle Comparison:
What is Redbubble best for?
Redbubble allows interconnectivity with other platforms.
What is Zazzle best for?
Zazzle allows for more creative freedom.
Redbubble vs Zazzle Alternatives:
Some of the best Redbubble vs Zazzle alternatives include:
| Ranking | SEO Platform | Our View |
| --- | --- | --- |
| 1 | Printful | Best for a wide range of products and easy integration with e-commerce platforms |
| 2 | Printify/a> | Best for a wide range of products and a variety of print providers |
| 3 | Redbubble | Best for a large variety of products and a built-in audience |
| 4 | Teelaunch | Best for custom products and high-quality printing |
| 5 | Zazzle | Best for custom products and a wide range of design options |
| 6 | Society6 | Best for artists and designers looking to sell their work |
| 7 | Gooten | Best for a wide range of products and fast shipping |
| 8 | Printaura | Best for a wide range of products and fast shipping |
Redbubble vs Zazzle Final Word:
Creatives need a place where they can express themselves and earn a decent living. However, in our review, Redbubble has a slight edge over Zazzle. We urge you to try it and find out if it works best with your needs and budget.
Click for the best Redbubble pricing
---
That's all for now:
If you've read all the way through this Redbubble vs Zazzle comparison, we are thankful. We hope you can now answer the question of what are the pros and cons of this print-on-demand platforms! We have a large collection of articles, guides, and comparison reviews of eCommerce solutions, web hosting providers, website builders, and more! Feel free to check them out;