Highs
A vast network of servers – 300,000 + IPs and 2000 servers
Five simultaneous-connections
Friendly to US Netflix
Split Tunneling and DNS leak protection
P2P/Torrenting is allowed
Some cool features – Port Forwarding, Static IPs, L2TP, SSTP, OpenVPN IKEv2, DDoS Protection, Ozone, Gravity and Internet Kill Switch.
Lows
Dubious privacy policy
Questionable security
No BBC iPlayer and Netflix
Useless Addons
Restricted free trial
Persistent connectivity glitches in windows client
Unprofessional customer support
Doesn't work in China
Limited refund policy
Connected with the US Jurisdiction – it's alarming!
Editor's Rating
Average
3/5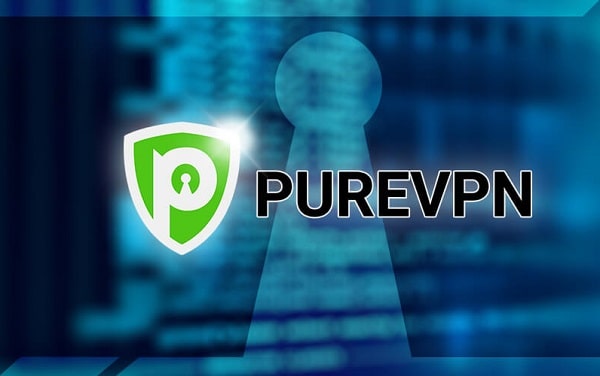 VPN market has saturated, but has the user matured? NO, not yet! We think we are wise enough to decide the best VPN for our online security and streaming desires, but that's not the case. Our identities and data are still playing at the hands of VPN providers; don't fall prey such maskeders, they are data snoopers behind fake protection. Decisions about tech require experts' opinions complimented with their unbiased yet honest recommendations; this is what our experts follow, without skipping relevant testings and details.
This PureVPN review is the written expression of our honest yet unbiased experience of the intended VPN; your all questions and queries will be answered shortly that revolves around these queries;
Where is PureVPN located?
Is the service trustworthy?
Will PureVPN settle our streaming craze?
Is PureVPN actively working for torrenting and gaming?
Will PureVPN protect our digital footprints?
Or else, we are sure all your queries will be solved once you read this detailed yet concise summary combined with analytical reflections of all the feature PureVPN offers and the claims being made.
PureVPN, the largest and oldest VPN providers operated by GZ Systems, started from 2 servers now crossed 2000+ servers, covering more than 180 locations globally. In a decade and more, this Hong Kong-based VPN has received its fair share of praises and controversies; absolutely from best to worst, especially since their data-logging scandal back in 2017.
This doesn't mean that a decade old service provider doesn't deserve a second chance; it's been more than a year, so let's revisit the company once again to witness the current standing.
Headquartered in Hong Kong, an increasingly tumultuous jurisdiction for a VPN (due to their inclination towards China) PureVPN hosts own network and DNS hardware which; means your information is quite more secure than with the average VPN.
This review will surely help you with your VPN decision.
To start with a punching force, we've compiled all the essential information in a table; we are sure this table will be a decisive element that either force you to read further or go back, so give it a detailed look!
| | |
| --- | --- |
| VPN Servers | 2000 + VPN Servers in 140+ countries |
| Offered Protocols | OpenVPN, L2TP/IPsec, SSTP, PPTP, and IKEv2 |
| Level of Encryption Used | 256 bit AES Encryption |
| Dedicated Apps for all Devices | Yes, except iOS |
| Netflix | No (Although marketed as Netflix supported servers) |
| Torrent friendly | Yes |
| Jurisdiction | Hong Kong and/or Pakistan |
| Support | 24/7 Live chat support + Email + Ticket System |
| Zero-Log Policy | Yes, but shady and doubtful |
| Port Forwarding | Yes |
Now, wear your goggles, because we're about to jump deep into the sea of features provided by PureVPN; don't miss to check out their fangtooth-like logging policies and sloth-minded customer support.
The 'Goods' And 'Not-So-Goods' About PureVPN
Although good and bad are abstract terms, but when it comes to experts' analysis, the chances of rationality increases and variations declined tremendously.
Let's begin with the pros!
PureVPN Servers List – It Will Never Be Enough!
Currently, PureVPN has a pretty impressive number of servers across 140 countries – 2134 self-managed; not bad, it's more than some big fishes in the pond. Many VPN providers dedicate their entire server list more towards Europe and North America, but thanks to PureVPN for being global (even Africa, Latin America, and Oceania are also covered) and offering a comprehensive blend of server locations.
Say the rarest locations – Myanmar, Papua, New Guinea, Madagascar, etc.- PureVPN has invaded already. The service has;
North America: 667 Servers
Europe: 807 Servers
Asia: 321 Servers
South America: 84 Servers
Africa: 150 Servers
Oceania 93 Server
Central America: 12 Servers
Approximately 69% of the servers are in North America and Europe while Asia gets a paltry 15% share, making it a fair distribution.
PureVPN is almost on the same page with all the conventional VPNs, where a big chunk is devoted to North America and Europe ignoring the rest of the world.
This practice is due to the high internet penetration, knowledge and the need for online protection; resultantly, their sales are high. PureVPN needs to add more servers to the Asian and African regions to reassure users across the world.
Are PureVPN Servers Actually Present In their Given Locations?
To compete with counterparts, some VPNs are using fake server locations, and interestingly, PureVPN is one of them; it's "Aruba" server (aw1-ovpn-udp.pointtoserver.com) is actually in Los Angeles, California.
PureVPN calls some of its servers as "virtual servers"; you will find many server URLs with "vl" stands for "virtual location." Testing them reveals that the "vl" locations are fictitious (not located in the stated country).
Even some of the non-vl servers are also fictitiously located, such as Aruba and Azerbaijan.
Virtual locations may or may not be a big deal depending on your situation. Some VPNs use such locations either due to non-reachability or to save money.
Additional Features – Some Coral Reefs For Your Security and Sightseeing!
Kill Switch – Now it's working
It's one of the most-criticizing features of PureVPN a few months ago, but now has been fixed; the feature has revamped, and no more complaints have found so far. To those new to the term, a Kill switch is an additional layer of security that kills the internet connection in case the VPN connection drops; irrespective of the reason. If you want to force the internet to drop when you manually turn the VPN off, go to the advanced options tab. It works like a fail-safe to keep your privacy and anonymity from being compromised, and your information from being divulged.
To test, I clicked the disconnect button from their interface, and immediately internet connection dropped automatically.
Split Tunneling – Your web traffic, your routes
As the name refers, this feature splits your traffic into encrypted and unencrypted routes; one goes through VPN tunnel, and the other doesn't. If you want to try this feature, spare some moments as this takes more time to set up; specifying apps between the routes limit the data transfer and resultantly optimize overall performance.
The feature was also inefficient earlier but now has been restored completely; we've checked with torrenting, it worked perfectly as claimed.
Benchmark Protocols and Encryption – They are a must
It's easy to know the technologies the company is using, as it's all written right there, without creating any doubts. PureVPN has an abundance of VPN protocols.
Need a different protocol? Choose from OpenVPN PPTP, L2TP, TCP/UDP, SSTP and IKEV. Want hassle-free selection, opt their an Automatic option and let the client suggests the best with the top security and speed, but unfortunately, it's not true; it cycles through the other protocols until finds the working one.
'Man-in-the-middle' (MiTM) attacks are the oldest (and most common) ways that hackers get into your sensitive information; you might not even sense anything, but someone, somehow, someway, have already in between you and your intended connection.
To combat these problems, PureVPN has an impressive number of protocols; among them, OpenVPN is your best bet to benefit both security and speed. Choose L2TP/IPSec based on device availability or PPTP.
Aside from that, PureVPN uses 256-bit encryption with RSA-2048 handshake and SHA-1 authentication. Not familiar with encryption? It is a method of converting readable data into cryptic data. The company also uses MD-5, but SHA is stronger hashing algorithm.
This does not only sound promising but also worked tremendously; we've performed the leak test, and fortunately, the results were progressive.
Ozone and Gravity – They are not gimmicks
Other than providing the traditional security features that most VPNs offer, PureVPN has worked a step further; you'll find two additional yet unknown features called as Ozone and Gravity.
"Ozone" is a comprehensive feature, acts as antivirus and warns you if you visit a sketchy website or if someone tries to hack your device.
"Gravity" is also useful, working as an Ad blocker to offer a better browsing experience. We've tested both "Ozone" and "Gravity"; both worked perfectly.
NAT Firewall- Farewell to Hackers
PureVPN also offers a NAT Firewall that is an additional security apparatus that immediately block malicious hackers away from your system. A firewall is something that sits between a secure Local Area Network (LAN) – a home WiFi, and less secure internet, controlling communications between by analyzing the data packets and determine what to do with them.
Whereas, Network Address Translation (NAT) is the modifying process of the IP information in IP packet headers to be routed to the required destination.
Unrestricted Torrenting – It's perfectly pro-torrenting
PureVPN supports torrenting and P2P. This might sound little shady, but it is.
Why it does so?
Because many VPN providers don't offer P2P support anymore, because recently, Torrenting is facing a backlash of epic proportions from government agencies and copyright trolls globally. Many popular sites including Torrenthound, Torrentz, KickAss Torrents, etc. has blocked, and many others are on the verge of having a similar fate. Thank God, there are some VPNs still support torrenting, but only on few servers.
PureVPN has received some criticism for its erratic speeds, but its support for streaming and Torrenting has always been in good books; PureVPN offers torrenting on a lot of servers; you can download torrents on any of their servers.
PureVPN Pricing – It's a little cheaper than most!

1 Month Plan cost you $10.95/ month (No saving)
2 Year Plan cost you $2.88/month (save 75%)
1 Year Plan cost you $4.08/month (save 63%)
PureVPN Payment Methods – Pay per convenience
Credit card
Paypal
Alipay
CoinPayments
PaymentWall
BlueSnap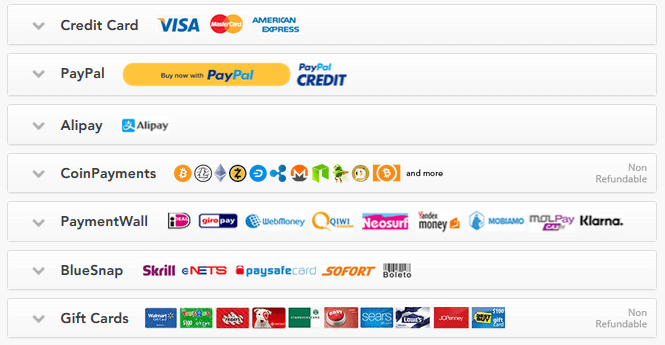 Note: Coin payments are "Nonrefundable." Do consider if you're planning for a refund later.
PureVPN Money Back Guarantee – It's haggle-free
Again, it's money a back guarantee was also a point of criticism in the past, but now updated. The current refund policy is straightforward with a claim of refund lasts 31 days to get your money back. All the requests processed with 24 hours and you'll get your refund within 30 days.
Refunds are not applicable to special plans and the 3-day trial account.
PureVPN Apps – Not All Your Favorites Are Covered
Compatibility of PureVPN is excellent, supporting an impressive list of supported; it's more than the mainstream desktop and mobile platforms, ranging from routers to gaming consoles and casting devices.
A list of supported devices are:
Routers
Microsoft Surface
Kodi
Android TV
Amazon Firestick
Roku
Boxee box
Linux (with OpenVPN)
Chromecast
PlayStation
Xbox
Now TV Box
Raspberry Pi


We've checked out their Android and Windows apps; Android worked flawlessly, while Windows had a lot of issues.
The presence of FireStick app's in the list of PureVPN's is no less than a surprise, as not many VPNs touched this niche due to the complexity involved in developing an app for this platform.
Windows App – Terribly Unresponsive
PurVPN's windows app is awful; can't connect in one go, retry again and again just to connect to a specific server.
Furthermore, the application is super sluggish, and typing in a server lags terribly; the application also gets unresponsive for no reason.
Their Windows app also disconnected our  Wi-Fi for no apparent reason whatsoever; it's an utter nightmare to use.
No iOS App – Yes, that's true!
PureVPN claim to offers apps for so many platforms (more than so many other providers), they blatantly lie about iOS apps; search for the PureVPN on the App Store and you're not going to find anything, because they have removed the app from the Store.
PureVPN Kodi – Yes! The Streaming Giant Has Covered
The Kodi repo by PureVPN is also an exciting addition to its compatibility repertoire, allowing users to deploy the VPN on this software easily.
Kodi has seen a downward trend recently, mainly because Google is not happy with the platform due to the privacy issues Kodi raises, but Kodi has still a long way to get obsolete, making the PureVPN repo valuable for now.
PureVPN Support – Sorry! It's quite gruesome
PureVPN takes pride that they have 24/7 customer support through a live chat and ticketing options displayed on their website in the form of pop-ups. When you send an inquiry, you will receive a response quickly (no matter the answer would be right or deviating) Their 365/24/7 email ticket support system responded immediately when we contacted them.
Support staff is pleasant and helpful, but their competence seems insufficient in the realm of technical knowledge; we've asked about encryption, and we received only less than half information, ignored the critical aspect of our query.
Conclusively, we could say either their support system is automatic and cram the pre-installed answers or have poorly trained agents.
Either way, it's a blatant lie that they have a dedicated a team to solve our queries.
PureVPN Logging Status – A Love-hate relationship
At one end, it helped FBI to catch a cyber stalker and on the other, disappointed a community of privacy advocates and loyal fans.
The privacy policies used to be:
We do NOT keep any logs that can identify or help in monitoring a user's activity.
And now, the updated version states;
We DO NOT keep any record of your browsing activities, connection logs, records of the VPN IPs assigned to you, your original IPs, your connection time, the history of your browsing, the sites you visited, your outgoing traffic, the content or data you accessed, or the DNS queries generated by you.
Now, this sounds rather satisfying, but still, we've to dig a bit deeper.
Looking more closely at their Privacy policy, the only information they collect includes Email addresses, Usernames, and Payment methods at the time sign up.
Other than that, they collect the total consumed bandwidths of all the registered users, for the sake of providing the highest speeds possible.
After that case, PureVPN has been in the process of rebuilding its reputation, including the rollout of an updated privacy policy in May 2018. It appears that now the company has scrapped the recording of logs.
One positive outcome of that incident is – it will tread carefully to ensure it doesn't jeopardize user trust again.
Anything Else About PureVPN
1. Is PureVPN Netflix-friendly? Yes, my friend
Netflix is an issue for most VPN providers; some are managing on some servers, others aren't faring well. We tried to access Netflix using multiple test servers and fortunately able to seamlessly connect each time.
Although we didn't connect straight away but connected after some proxy encounters. After switching to a different U.S server, we successfully unblocked the U.S library of Netflix. Anyways, the streaming experience was great; we didn't notice any lags or pixelated videos.
This is seriously impressive as most VPN's don't work with Netflix; not working for you? Keep switching servers.
2. How fast PureVPN is? Worst, but faster than so many
Honestly, our team was seriously blown away with the speeds offer by PureVPN; our experts performed speed tests on the following servers, using the 15 Mbps office internet connection;
UK
US
India
Germany
France
The results were;
| | | | |
| --- | --- | --- | --- |
| | Ping (ms) | Download (Mbps) | Upload (Mbps) |
| UK – London | 149 | 14.9 | 9.6 |
| US – Florida | 267 | 9.8 | 6.3 |
| Germany – Frankfurt | 139 | 14.7 | 8.5 |
| France – Paris | 241 | 13.5 | 1.01 |
| India – Bombay | 147 | 15.09 | 8.8 |
3. Does PureVPN works in China? No
Like many VPNs, PureVPN is also blocked in China; it means you can't access their site and/or download the PureVPN app.
They said, it can work if you have the app pre-installed on your respective device before entering in China, but how could the accessibility be granted if the site is blocked?
Is PureVPN Service Recommended?
Although, it's hard to say in black and white, instead we would say it's a good VPN for users looking for a one to stream Netflix and other regional blocking content, without spoiling the budget to a great extent.
Or if you're in China or have plans to visit China in the near future, then look elsewhere.
Anyways, PureVPN is an easy-to-use interface with many customization options; performance and speed are good with a pinch of unpredictabilities  and connectivity issues. PureVPN allows easy access to streaming sites including Netflix and Amazon Prime Video; for mobile users, the intuitive app has revamped already.
On the security front, PureVPN checks all the boxes ranging from strong encryption to DNS and IPv6 leak protection, a built-in kill switch, split tunneling, ozone, and gravity. Although the earlier problem has fixed already, that all could be cosmetic to regain the lost image; the past bad press is still a red flag to some potential users.
Even the credibility of being in Hong Kong also needs to be reanalyzed; digging PureVPN deeper, we come across that a Pakistan-based company known as Gaditek, claimed to own PureVPN, as one of their brands.
No matter, where PureVPN is located (Pakistan or Hong Kong), we are concerned with the level of lie the company is stating blatantly and so should not be trusted.
---
That's all for now:
If you've read our PureVPN Review up to here, we are grateful. Don't forget to keep an eye out for our ever-growing blog of review and comparison articles of VPN services, eCommerce platforms, SEO software, screen capture tools, webinar and conferencing software, education platforms, website builders, and more such as;
Please share any comments below!