⏳ In a hurry? Here's your Magento Review snapshot:
Contact for pricing
Summary
Magento is an open-source ecommerce platform that provides merchants with a flexible shopping cart system, as well as control over the look, content, and functionality of their online store. It is known for its ability to handle large amounts of products and high levels of customization.
Ease of Use -

75%

Features & Flexibility -

90%

SEO & Mobility -

85%

Help & Support -

65%

Cost -

50%
Pros
Scaleability
User Friendly
Excellent Feature-set
Cons
Expensive for Development, Support & Maintenance
Dedicated Hosting recommended – The complex and scaleable design really requires a dedicated server
Platform Complexities – Makes it difficult to recommend unless someone in the company has web development experience (or you are prepared to outsource)
---
Introduction to our Magento Review:
Welcome to our Magento review. Our Magento review will help you decide if this open-source E-Commerce platform is right for you and your online business. Our review covers both Magento and Magento 2 Review.
---
Overview: Magento eCommerce is used by Companies large & small but is it right for you?
Written in PHP, this open-source E-Commerce platform has been around for over 10 years now and meets the needs of any company looking to get into online retailing.
The power of the Magento E-Commerce offering should not be underestimated. Indications are that in excess of 200,000 online stores are taking advantage of the platform. The range of users is wide. Small E-Commerce operations right through to some of the biggest Corporations out there employ this platform.
For basic level needs the software is free to download. There is also a paid pricing tier for enterprise use. When considering any Magento reviews and ratings, they may well be titled Magento 2 review. This refers to the latest version release from the company.
---
Ease of use:
It must be said that there is quite a learning curve to be encountered when considering Magento. The reality here is that unless you have some coding experience and understand a range of technical terms you will not maximise the true power of this platform.
From our Magento review we feel the Magento Content Management System (CMS) is less user friendly than other builders unless you are well versed with programming and coding. This is because there are lots of technical terms to overcome and some of these can be quite intimidating for the beginner, but those with such experience or those willing to invest time in understanding Magento will certainly benefit from the platform's flexibility and use. Being open source means Magento gives a lot of freedom once coding experience develops.
There are also lots of resource guides that will help get you through any difficult processes but time and patience is required for the beginner.
---
Features and flexibility:
Magento 
Out of the box:
Looking at the Magento eCommerce platform its major features should be viewed in one of two ways:
Free Download: Download from Magento website and install to your own reliable hosting from a 3rd party web hosting service like Siteground.
Hosted Service: No installation cost with the hosted service offering, but a much higher price tag comes with this option.
Magento Review of Themes and Templates:
The Magento eCommerce platform does not in itself offer custom designs for your online store. However, finding quality themes and designs to meet your needs is easily achievable via 3rd party providers.
To understand exactly what is available you would either browse the Magento Connect catalogue or avail of a premium theme by visiting a major theme provider in this arena such as Template Monster.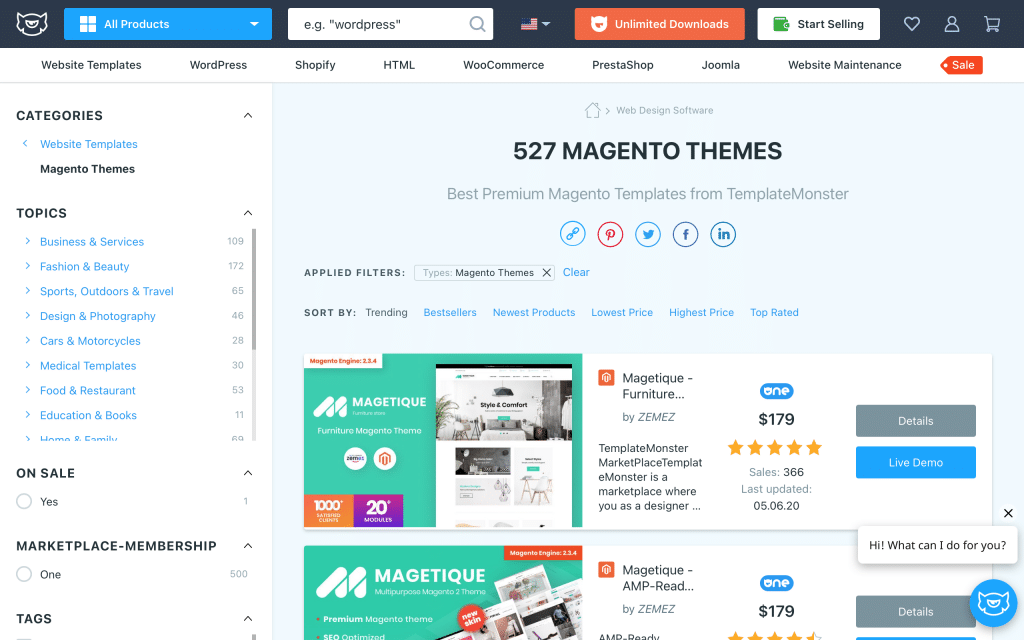 A final option but only for those with know-how. Due to the open-source code available it is possible to build yourself a 'Ground Up' Magento Theme. But again a higher level skill set is required.
See The Latest Magento Themes an Templates
---
Magento eCommerce Tools:
Two obvious reason it is such a popular platform are because many see it as an all-in-one E-Commerce solution and that it offers a huge feature set. Our Magento review agrees and does not see many major feature missing from this advanced piece of software.
Here are just 10 of these:
In excess of 5,000 extension available
Inventory management
Handling of shipping charges
Extensive coupon management
API for web services
Multiple payment gateway options
Mobile and Tablet optimised
Built-In SEO features
Built-In multilingual support
Newsletter management feature
There are also thousands of free and premium Magento extensions from their very our Marketplace which can easily extend the functionality of your online store even further.
---
SEO and Mobility:
Magento SEO:
Good SEO is a crucial feature for all online stores. When the SEO functionality is used effectively this will give you the ability to ensure your store climbs page rankings. Those using Magento eCommerce stores have the potential to rank highly in the results pages. Here are 4 highly useful SEO features that can be obtained from the relevant platform apps store.
Page edit of title and description
Add alt text to images
SEO issues scan
Site speed checks
Mobile:
Anyone starting an online store should be aware of the high importance of mobile responsiveness. A site that is slow to load on a mobile device will in all likelihood be abandoned by a visitor. As we have mentioned, of Magento's 12 themes, 10 are fully mobile responsive. This means that when your site is viewed via a mobile device it will automatically resize itself to fit the viewing device.
If you have chosen to employ a Magento development agency to assist with your online store appearance, do spend a little time discussing mobile responsiveness and AMP (Accelerated Mobile Pages). This feature continues to increase in importance and is something you would be wise to understand (not necessarily from a technical point of view, just the benefits it offers!).
Magento Review of Pagespeed:
Technically, Magento doesn't have a specific page speed. Speed will be dependant on a number of factors including the server level. Also consider that downloading and incorporating plugins can effect site speed. Also depending on the elements you put on your site pages such as images and videos can effect site speed also.
---
Support and Resources:
Because Magento is a self-hosted platform there is no dedicated support as such. What you can rely on for assistance is the huge community of users who offer a high level of support. Whenever you run into trouble you can reach out to the Magento Forum. Here where you will find answers for just about every issue seen.
There is also a powerful search tool on the massive database consisting of user generated content where questions and answers have been clearly laid out.
But unless you are paying the big bucks for Magento eCommerce you will not have any avenue to a dedicated support team when opting for the Magento platform.
---
Magento Pricing:
While Magento's open-source edition is free to download, Magento Commerce will come at a price.
As a minium;
A Domain name with GoDaddy.
Premium eCommerce hosting with Nexcess.
Site Security with Sucuri.
The greater the functionality and size of your online store, the more you will pay for in terms of related apps and increased hosting costs. An example here is that while some of Magento's apps are free, the ones that cost come with and installation and annual fee. This can often be seen at around $100 per app per year. As mentioned, the more paid for apps installed, the greater your cost.
Another cost consideration that may need to be take in into account is the potential of hiring a Magento eCommerce development team. If this option is taken then there is a fairly hefty financial investment involved, although you should expect an 'all singing, all dancing' site set up for this outlay.
Those companies looking to use the Enterprise version need to understand that Magento themselves set this up for you. This moves things up quite dramatically from a cost point of view. Indeed, there is no openly published price list on their website. You need to complete a contact form detailing your company and needs. Dependent upon what you are after, rumour has it that you will pay anything from £10,000 per annum and well in excess, dependent upon your needs.
>> Enquire for latest Magento pricing <<
---
Conclusion and Recommendation to our Magento Review:
So, our Magento review conclusion;
What is it best used for?
Despite our Magento eCommerce review statement on the Enterprise version costs, this platform is still recommended if you are:
Setting up an online store that you are confident will do well!
Already have an established online store model along with funding to back up your aim and can afford time to create a store that fully fits your needs.
Those fitting into the above categories are quite likely to find the Magento E-Commerce platform fits their requirements perfectly.
After all, with an estimated 1 in 4 businesses using Magento (both large and small) this should show the scope and benefits of a highly feature-rich selling open source platform.
Magento eCommerce Alternatives:
While there will undoubtedly be interest in the Magento free download, it is recommended that you review other eCommerce platforms to achieve a comprehensive understanding of what is out there.
For those who are just moving into the E-Commerce arena it is quite likely you will find less demanding solutions to meet your needs. Here's a list of the best Magento alternatives to create a an online store:
| Rank | Key Features | Price (Basic Paid Plan) | Transaction Fee | My View | |
| --- | --- | --- | --- | --- | --- |
| 🥇 Shopify | Comprehensive e-commerce features, large app store, excellent SEO tools | $29/month Check Pricing | 2.9% + 30¢ per transaction (for online credit card rates) | Ideal for most online stores due to its comprehensive features | Try For Free |
| 2. Squarespace | Beautiful templates, great for small to medium-sized stores, powerful marketing tools | $12/month Check Pricing | None (but payment processor fees apply) | Great for creatives and those who need a visually stunning online store | Try For Free |
| 3. Webflow | Deep customization options, good for web designers, CMS features | $12/month Check Pricing | 2% on customer's checkout total | Best for designers needing high degree of customization | Try For Free |
| 4. Square Online | Syncs with Square POS, good for small to medium-sized stores, unlimited products | Free to start, e-commerce from $12/month Check Pricing | Yes, 2.9% + 30¢ per transaction | Great for existing Square POS users | Try For Free |
| 5. WooCommerce | Open-source, highly customizable, requires WordPress | Free Check Hosting Pricing | Depends on payment gateway used | Best for WordPress users and those who want total control | Try For Free (with Nexcess Hosting) |
| 6. Wix | User-friendly, great for small stores, wide range of templates | $14/month Check Pricing | None (but payment processor fees apply) | Great for small businesses or beginners | Try For Free |
| 7. Big Cartel | Designed for creators and artists, easy to use, limited features | Free for up to 5 products, plans from $9.99/month Check Pricing | None (but payment processor fees apply) | Ideal for artists and creators with smaller product lines | Try For Free |
| 8. Ecwid | Can be integrated into any website, good for small to medium-sized stores | Free for up to 10 products, plans from $15/month Check Pricing | Depends on payment gateway used | Good for those who want to add a store to an existing site | Try For Free |
| 9. Volusion | Good inventory system, comprehensive e-commerce features | $29/month Check Pricing | None (but payment processor fees apply) | Good for medium-sized businesses | Try For Free |
| 10. Weebly | Easy to use, good for small stores, powered by Square | Free to start, paid plans from $6/month Check Pricing | 2.9% + 30¢ per transaction | Good for small businesses or beginners | Try For Free |
Shopify vs Magento: For less experienced hands who want to launch a site with less hassle, consider comparing Magento and Shopify.
WordPress vs Magento: If you want more of the latter, we recommend using WordPress.org combined with WooCommerce for a content management system. Remember you can test our WordPress with a free trial on the hosted version wordpress.com.
BigCommerce vs Magento: If you are still looking for a similar bigger store requirement that Magento eCommerce would bring, then we suggest comparing some other reviewed platforms like BigCommerce vs Magento.
Magento Review Final Word
Those who are curious about what this highly rated platform is all about should not hesitate to take the free version for a spin. Not only will it solve your curiosity, it will clearly be seen if Magento is right for you! Also remember to check out Magento review articles as this is a slightly different product.
---
That's all for now:
Thanks for reading our Magento review. Don't forget to keep an eye out for our ever-growing blog of review and comparison articles of eCommerce platforms, SEO software, screen capture tools, webinar and conferencing software, education platforms, website builders, and more such as;