⏳ In a hurry? Here's your Hotspot Shield Review snapshot:
Summary
Hotspot Shield is a virtual private network (VPN) service that provides secure, private internet access to users. It encrypts users' internet traffic to protect their online privacy and prevent hackers from stealing their personal information.
Ease of Use

Features & Flexibility

Support & Resources

Pricing
Pros
3,200 Servers in 70+ countries
Works with Netflix (But Not 100%)
Supports torrenting
Compatible with all popular platforms
Unlimited bandwidth
Built-in Kill Switch
Cons
Ticket based customer support
A bit pricey
Introduction
Hotspot Shield, a product of Anchorfree Inc. is a Switzerland based VPN with over 650 million active users. The company is more popular due to its free version VPN, which has helped them attract internet users globally. However, the free plan comes with loads of limitations; annoying ads and bandwidth cap is among the essential dropoffs. It offers premium plan as well that goes by the name 'Hotspot Shield Elite' – no bandwidth cap, ad free experience and many other features are included in it. All that comes with a heavy price of £12.99/month; unless you buy a 3-year plan which drops the price by 78%.
Little More Introduction to Hotspot Shield
The VPN Company have been in the business since 2005 and have grown lately at a stellar pace. In many cases, popular VPN companies have had the most customers; however, it doesn't mean that they have the best product.
The question is, "is their huge customer base due to their stellar marketing, or is there really some juice in what they offer?"
This Hotspot Shield review will clear the air and make it transparent for our readers as to whether they should go with it or not. Before we start our critical analysis, let's  list down some of the core features that we use as a benchmark to evaluate VPN offerings:
| | |
| --- | --- |
| VPN Servers | 3,200 servers in 70+ countries |
| Offered Protocols | Hydra (it's very own proprietary protocol) |
| Level of Encryption Used | 256-bit AES Encryption |
| Dedicated Apps for all Devices | Yes |
| Netflix | Yes (Not the best one you'd be looking for) |
| Torrent friendly | Yes (Won't get the best speed) |
| Location | Switzerland (outside 14 eyes) |
| Technical Support | Yes |
| Browser Extension | Yes |
| Kill Switch | Yes |
| Zero-Log Policy | Yes |
So can Hotspot Shield be trusted?
Apparently yes, they have a clear no-log policy which is safe for torrenting and to achieve anonymity online. It encrypts the data using state of the art encryption protocols so that the users can safely surf the web.  Not the best privacy policy if you compare other premium VPN providers, but based on our research, it does offer decent privacy measures that you can rely on.
Is there a free version of Hotspot Shield?
Yes! With Hotspot Shield Free VPN, you can enjoy access to a US-based IP address to browse restricted content. The free plan comes with a bunch of limitations  as shared in the screenshot below. If you upgrade to Hotspot Shield Elite, then you will get access to VPN servers in more than 25 countries (3200+ servers).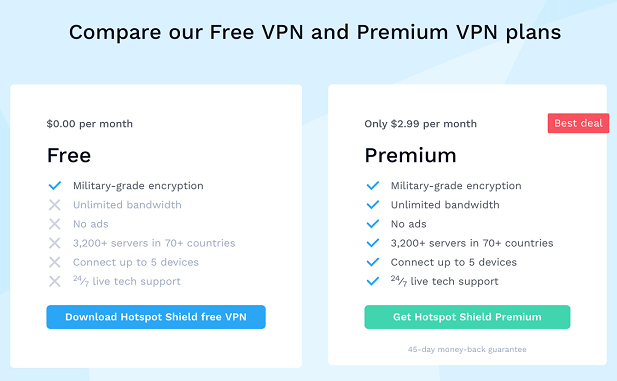 How much does Hotspot Shield cost?
As far as the paid plan is concerned, here is what they offer;



Their plans are a little pricier, however, we believe that everything good comes  with a price. The service is backed with a 45-day money-back guarantee, which is  above the benchmark threshold.
The refund process is pretty painless, and you can get it back in real quick time. Well, as far as the payment is concerned, you can use all major credit cards, PayPal, and wire transfer. They do not offer anonymous payment methods, which are a setback.


Are there any hidden fees or clauses with Hotspot Shield?
No. Their policy and offerings are quite decent and everything is in black and white.
Any Upsells?
Yes and no. If you are on free VPN plan then you might see pop ups asking to upgrade at a discounted rate. In paid plan, there is no aggressive upselling and they do standard marketing campaigns to retain users base.
Do you get instant access after paying for Hotspot Shield?
Yes. Once you successfully sign up for Hotspot Shield account, you will receive a confirmation email along with download option and steps to configure the account.
How do I download Hotspot Shield VPN?
You can easily download their software client which is mentioned on their website.  They have dedicated apps for Windows, Mac, Android and iOS. You can also download Hotspot Shield on Chrome browser.
Is Hotspot Shield Safe to Use?
Security Feature
When it comes to security, Hotspot Shield uses 128-bit encryption with ECDHE for perfect forward secrecy. It also offers 256-bit encryption, which is the industry standard now and is like a norm for a VPN service provider.
Privacy Feature
Instead of opting for a popular VPN protocol, this Switzerland based VPN opted to go with a proprietary protocol named "Hydra." It is tough to compare Hydra with OpenVPN, while Hydra uses a "multi-hop" feature to route data connections while OpenVPN is an open-source platform which keeps things transparent and increases data security for the user.
The VPN comes with a DNS Leak, WebRTC and IPv6 leak protection, which is enabled by default. The VPN service comes with a kill switch features which promises to drop the connection if by any means the VPN connection is lost.
Is Hotspot Shield a Good VPN?
Impressively Fast Speed on All Servers
Speed is a dire phenomenon which makes or breaks a VPN service. It depends a lot on the quality of VPN servers and the number of people on the server in a given point at a time. Speed of Hotspot Shield VPN is decent and we observed the following results during our tests.
We tested Europe, United Kingdom, Asia, and the United States servers and were impressed by the speeds.
Note: These tests were conducted on a 100Mbps connection
EU Server (Amsterdam)
Ping: 44ms
Download: 87Mbps
Upload: 60Mbps
Asia Server (Hong Kong)
Ping: 98ms
Download: 76Mbps
Upload: 53Mbps
US Server (New York)
Ping: 142ms
Download: 69Mbps
Upload: 44Mbps
UK Server (London)
Ping: 64ms
Download: 83Mpbs
Upload: 68Mbps
User-Friendly Experience
We were quite impressed by the user-friendly design on the provider's website. It merely takes 2-mins for the installation process, and then the next thing you end up seeing is a sleek design of native apps. You can also tweak the settings as per your preferences.
Although they do not offer much customization, but they have an incredibly simple and intuitive UI, which makes it very easy to use.
Is Hotspot Shield Good for Torrenting?
Hotspot Shield is a torrent-friendly VPN, but it is not the best offerings that we can vouch for.  Not all servers of Hotspot Shield are strong enough to support torrenting, and the ones that do might be having load on them during peak hours. There are other options (better) in the market that offer a torrent-friendly environment like ExpressVPN.
Their network is secured with AES 256 bit encryption, which ensures that the data that is being transmitted is secured and protected; thanks to its state of the art ways that stays close to 100% anonymous from prying eyes.
Government, ISPs, and paid agents often try to put their nose into our private preferences and searched terms, although none of them can see what you are doing if you are using Hotspot Shield VPN.
Is Hotspot Shield VPN Netflix Compatible?
Netflix started blocking VPN servers and discouraged the use of anonymous tools as the streaming giant believes it hinders copyrights of the TV shows and movies.
The compatibility with Netflix changes every second since December 2017. However, Hotspot Shield does work with Netflix, and some of its servers unblock Netflix. The results are as follows.
Hotspot Shield VPN servers which unblock Netflix US;
Canada
United Kingdom
Netherland
Hotspot Shield VPN servers which did not unblock Netflix US;
United States
Bahamas
Argentina
Mexico
From the results we have above, it is clear that the VPN is not an ideal choice if you are looking to watch American Netflix content. If US content is your preference with Netflix, then consider looking at  ExpressVPN.
Customer Support
It is quite clear that the Hotspot shield is a reliable VPN with competitive market features. However, we can't simply overlook its customer support service and a blindfold on where it is lacking. So far, it has impressed us in this manner.
The VPN provider admits that they have a long list of troubleshooting resources. They just feel that a customer support team is unnecessary as they have their homework completed.
In case you face any issue, the only way to contact their customer support is by their dreaded support ticket. Here is what their ticket looks like;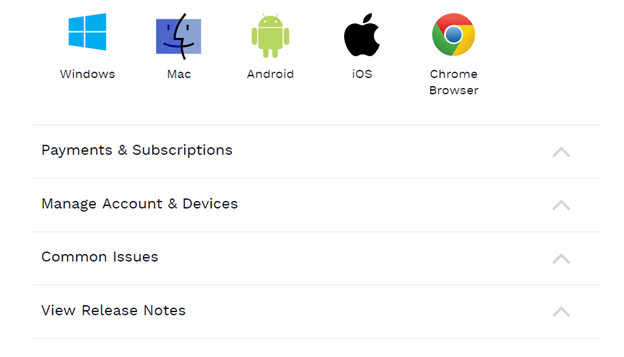 Sit back relax and wait for their response, it might take a few hours so just chill.
If you feel that it is not your day, then don't bother filling that ticket because reportedly users have been waiting for a week for the response.
Well honestly this is disappointing for an elite VPN service, but hopefully, things will get streamlined once and for all. (Fingers crossed)
Our Verdict on the Review of Hotspot Shield?
Hotspot Shield is a decent VPN which offers lightning-fast surfing speed, and fantastic user experience sprinkled with a ton of features to satisfy the VPN enthusiasts out there.
Although there is a dark side to the company because it has been behind a lot of shady dealings lately let bygones be bygones. It is an improved product overall with hopes held high.
You can anchor your security and privacy on this VPN and use it to hide your IP address. It is a good option to achieve close to absolute privacy.
---
That's all for now:
If you've read our Hotspot Shield VPN Review up to here, we are grateful. Don't forget to keep an eye out for our ever-growing blog of review and comparison articles of VPN services, eCommerce platforms, SEO software, screen capture tools, webinar and conferencing software, education platforms, website builders, and more such as;
Please share any comments below!