---
HostGator: Is It Still an Apex Web Hosting Provider?
Many web hosts have come and gone, but the very best remain on top of the web hosting pyramid. HostGator is a popular name in the industry, having been in the business for years. It's most remembered for being a pioneer in managed WordPress hosting services and is continually revamping its features to cater to the growing needs of users and organisations. Overall, users have found HostGator to be a mixed bag – with features some find to be excellent and others, needing improvement. Let's have a closer look at HostGator in this in-depth review and determine if this web host is still on top. Scroll down to read our HostGator WordPress Hosting review, HostGator Baby Plan review, HostGator Business Plan review, and HostGator Hatchling Plan review.
---
Ease of use:
One of the most important criteria when judging a web host is its ease of use – and we give Hostgator a fair rating on this area. Hostgator is really feature-packed as a service, but it's not difficult to navigate and customise at all. Of course, if you're familiar with cPanel and a have a basic knowledge of programming language, you'll find this web host convenient to use. If you're not, it could be a bit of a learning curve since its interface is not as intuitive as some platforms.
However, with Hostgator's 1-click installations, you can heave a sigh of relief because it gets your site up and running in no time. Moreover, if you're the type gets a kick out of tweaking, this hosting service has a broad array of developer tools and scripting languages such as Perl and Python. You can fine-tune your site's back-end to your liking.
If you own a WordPress site, learn the advantages of this service in the HostGator WordPress hosting review below.
Also, find out which hosting package matches your needs perfectly in our HostGator Hatchling Plan Review, HostGator Baby Plan Review, and HostGator Business Plan Review.
---
Features:
Domain Names:
Hostgator offers top-level domain (TLD) extensions, including .com, .org, .net, .info, .site, .tech, and .co. As of this writing, subscribing to a Cloud, Shared, or Hostgator WordPress hosting plans gets you one (1) domain registration for free. Be sure to read our Hostgator WordPress Hosting review farther below to learn what's in store for you.
Check out more HostGator products with our HostGator Hatchling Plan Review, HostGator Baby Plan Review, and HostGator Business Plan Review.
Email Rating:
HostGator provides unlimited POP3 email accounts with all their shared hosting plans, coupled with unlimited storage. If you subscribe to Hostgator VPS servers, you get unlimited email accounts but with plan-based disk space.
Databases:
All HostGator plans feature access to an unlimited number of MySQL databases to let you innovate and configure your backend.
Know more about these hosting packages in our HostGator Hatchling Plan Review, HostGator Baby Plan Review, and HostGator Business Plan Review below.
For its Linux hosting plans, HostGator supports unlimited MySQL databases accessible via phpMyAdmin. It also supports CGI, PHP 5, Fast CGI, PHP 7, Perl, Ruby on Rails, and Python.  For Windows hosting plans, it supports unlimited MySQL, ASP, Microsoft SQL and Access Databases, ASP.NET 2.0, 3.5, 4.0, 4.5, Python, PHP, and SSI.
Applications:
HostGator provides support for various applications with 1-click install such as WordPress, Magento, Joomla, Drupal, and other popular apps. However, compared to other web hosts that offer Softaculous for more convenient apps installation, HostGator is mostly WordPress-focused. Therefore, if you're looking for a provider that allows installations of a greater variety of apps, it's probably best to search elsewhere.
If you want to know how HostGator can add value to your WordPress-powered site, read our HostGator WordPress hosting review below.
WordPress:
Quick and easy WordPress installations are made possible through Softaculous. If you're uncertain on how to proceed, the site has an extensive knowledge base to find WordPress installation tutorials. There are also tutorials on how to install a WordPress Optimised site.
HostGator also offers Managed WordPress hosting for your WordPress website. The company allows migration free of charge. The company also features an Optimised WordPress hosting package that has pre-installed WordPress 7.2 and above. Get more details on WordPress hosting through our HostGator WordPress hosting review.
Also, know more about pricing and features in our HostGator WordPress hosting review below. Don't forget to secure your discount pricing with our Hostgator coupon code link.
Site Staging:
Unfortunately, HostGator does not offer site staging as a feature.
Website Builder:
HostGator has its own website builder, Gator, that's easy to use and customisable. Its website builder has an intuitive interface that's great for beginners. There are over 200 themes and templates to choose from for greater personalisation. Even for the cheapest plan on annual billing, you're treated to a free domain, an unlimited number of pages, SSL certificate, and unlimited bandwidth and disk space.
Find out what's up with HostGator plans via our HostGator Hatchling Plan Review, HostGator Baby Plan Review, and HostGator Business Plan Review.
eCommerce and SSL certificate:
eCommerce:
HostGator's hosting plans are all eCommerce-ready. They offer shopping carts and payment gateways to help you set up your online store in a jiffy.
For those looking to use Magento, HostGator offers Magento shared hosting plans, cloud hosting, reseller hosting, and enterprise hosting. These plans are compatible with version 2.0 while Magento VPS hosting and Magento Dedicated hosting is compatible with version 2.1.
HostGator shared hosting plans have solutions that cater to businesses of all sizes. A HostGator Business Plan entitles you to Positive SSL, free domain, free SEO features, and free dedicated IP address. If your business is growing and receiving more clients, the higher traffic volume requires you to subscribe to a more powerful hosting plan, either a VPS or Dedicated Server.
Learn more about how HostGator can help you set up your online shop with our HostGator Hatchling Plan Review, HostGator Baby Plan Review, and HostGator Business Plan Review.
SSL Certificate:
Every hosting plan gets you a Let's Encrypt SSL certificate for free. Let's Encrypt may be a new certificate authority (CA) but it works just as well, or even better than paid certificates. You can also purchase premium SSL certificates from the site.
Find out more features aligned with hosting plans in our HostGator Hatchling Plan Review, HostGator Baby Plan Review, HostGator Business Plan Review, and HostGator WordPress Hosting Review.
Security and Backups:
HostGator safeguards your site from potential DDoS attacks through its security features. The company provides a custom firewall with large mode security protocols. Its data centres provide top-level flood protection. For an added level of security, you can purchase SiteLock to scan your site for security breaches continuously.
Backups with HostGator are underwhelming. There are no guaranteed daily or weekly backups, and the frequency depends on the hosting plan you're subscribed to. Backups for Shared plans can go each day, week, or month if you have accounts below 10GB with 100,000 inodes. Managed WordPress Hosting accounts, Cloud Hosting, and Reseller accounts run weekly backups if you have accounts below 20GB and 100,000 inodes.
If you want to know what security the providers has for WordPress sites, scroll down below for our HostGator WordPress hosting review.
To have a more in-depth look on security, browse through our Hatchling Plan Review, HostGator Baby Plan Review, and HostGator Business Plan Review.
---
Performance:
Server Locations:
HostGator has data centres in two sites:
Ace Data Centers in Provo, Utah, in the USA.
CyrusOne in Houston, Texas, in the USA.
It's not possible to select the data centre of your choice for your servers. Also, customers are not granted access to either data centre.
CDN:
HostGator no longer offers CDN. You can, however, opt to purchase Cloudflare as an external app. For Linux hosting plan users, they can buy SiteLock as their CDN.
Speed Results:
Speed is a big issue with HostGator. Our own speed tests are corroborated by other independent tests to suggest slow speeds consistently plague this web host. Within a 24-month period, page loading speeds average 1191 ms, meaning it takes roughly a second to load light-weight, text-based web pages using HostGator. This does not bode well for pages requiring high-resolution images.
Average Uptime, Bandwidth, and Webspace limits/Storage:
HostGator guarantees a minimum of 99.95% uptime. This means that in any given year, the site is down for 4 hours.
The web host also provides unmetered bandwidth to users as well as unlimited disk space for all hosting plans, although combined, they should not exceed 250,000.
---
Support and Resources:
There is inconsistent quality support. Sometimes, support staff are readily available around the clock to answer queries through email, live chat or phone. Other times, the wait times are exceedingly long, and staff not very helpful in resolving issues.
However, this is offset by HostGator's extensive support portal, which is located inside the dashboard. Its knowledge base is full of articles and video content to address any issue you might encounter.
See more HostGator support features
---
HostGator Pricing:
HostGator offers a wide selection of hosting plans, including Shared Web Hosting, Cloud Hosting, WordPress Hosting, Dedicated Server Hosting, VPS Hosting and Reseller Hosting.
If you're smart about it, you can get discounted prices if you use HostGator coupon codes. Get them through this link here.
Also, please scroll down below for our brief HostGator WordPress Hosting review to know the ins and outs of this service. You can also draw comparisons among hosting plans, specifically in our HostGator Baby Plan review, HostGator Business Plan review, and HostGator Hatchling Plan review.
Shared Web Hosting Plans:
Shared hosting is the perfect plan for starters who are not expecting a large traffic volume. A shared hosting environment allows you to split the bill with other websites hosted on a similar server.
HostGator has three shared hosting plans to choose from. Read below for our HostGator Hatchling Plan review, HostGator Baby Plan Review, and HostGator Business Plan review.
HostGator Hatchling Plan Review:
This plan is the perfect fit for small business owners who are setting up their website or online store for the first time. The Hatching Plan is the cheapest shared hosting plan offered by the company and includes a free website builder, one free domain and free SSL certificate.
Believe me; it doesn't get any more economical than this. HostGator offers beginners the opportunity to launch 1 professional-looking and secure website for a mere $2.75 per month. In this HostGator Hatchling plan review, we recommended annual billing instead of monthly for the best bang for your buck.
If you compare HostGator vs SiteGround, HostGator is definitely more inexpensive. SiteGround, however, has an edge on speed and features. When it comes just to a pricing battle between HostGator vs Hostinger, Hostinger runs cheaper, but definitely has weaker infrastructure than HostGator.
Also, you can launch your HostGator website at discounted prices if you avail of special HostGator promo codes here.
To get a more in-depth HostGator Hatchling Plan review, check out our article here.
HostGator Baby Plan Review:
The Baby plan is a step up from the Hatchling plan but for just an additional $1 every month. If you opt for annual billing, you'll be charged only $3.95 monthly.  In this HostGator Baby plan review, we recommend buying this over the Hatchling plan because you can host an unlimited number of domains compared to just the one on Hatchling.
If you want to look closely at this plan, read our in-depth HostGator Baby Plan review here.
HostGator Business Plan Review:
HostGator business plans are an optimal choice for those who are looking for scalability and customisation. You can choose between Windows-based or Linux-based plans at cheaper rates than rival companies like SiteGround. Paid through annual billing, the rate is only $5.95/month.  What we don't like about this plan, however, is that the pricing structure is primed for long commitments.
However, you can easily get discounted prices with coupons or promo codes.
HostGator Cloud Web Hosting Plans:
HostGator also offers cloud hosting plans which promise twice the speed and four times the scalability of regular web hosting plans. These plans are perfect for websites and businesses that require faster load times.
Compare cloud web hosting plans for businesses with the shared web hosting plan featured in our HostGator Business Plan review.
HostGator WordPress Hosting Review:
HostGator features managed WordPress hosting services in three plans: Starter ($5.95/mo),  Standard ($7.95/mo), and Business ($9.95/mo). You could expect the following features:
Zero charge WordPress migration on any plan;
1-Click site restoration and auto backups;
Free of charge shared SSL certificates; and
WordPress themes and templates courtesy of the MOJO marketplace.
Compared side by side with its competitor host SiteGround, we find in this HostGator WordPress Hosting review that HostGator does not offer more advanced WordPress-specific features. Still, for those running on small budgets, HostGator is a keeper.
Dedicated Server Hosting Plans:
For those who demand full server access and infrastructure to handle resource-intensive tasks, HostGator Dedicated Server hosting is offered in three plans:
Value Server: $89.98/mo
Power Server: $119.89/mo
Enterprise Server: $139.99/mo
Reseller Hosting:
A HostGator reseller plan otherwise known as white label hosting, is designed for acquiring your own hosting clients. Perhaps if you're a web designer you can use a reseller web hosting plan to add value for your existing and future customers.
There are some great discounts on the Silver plan at present!
VPS Hosting:
To maximise the most advanced features and customisation, VPS hosting is available in three HostGator plans Snappy 2000 ($19.95 per month), Snappy 4000 ($29.94 per month), and Snappy 8000 ($39.95 per month). All plans are at discounted prices!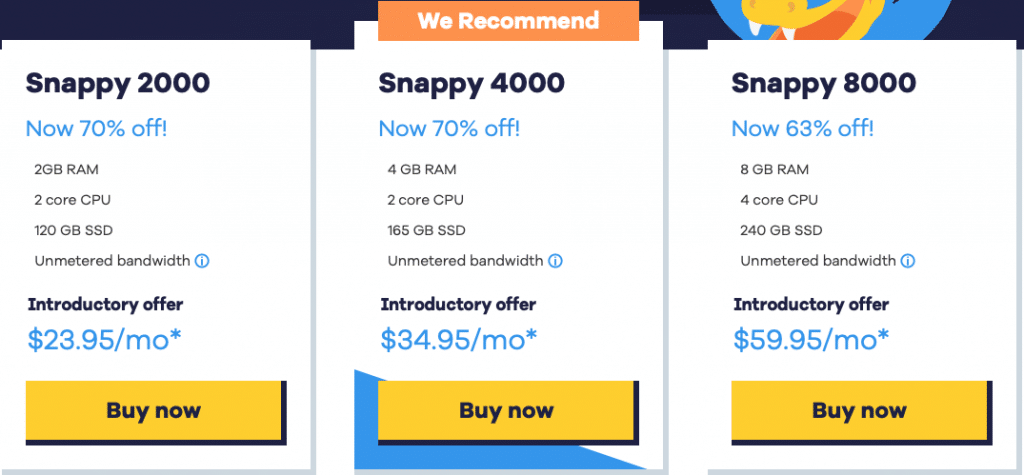 Cloud Sites:
Those who are managing multiple websites can get Cloud Sites plans from HostGator. It promises high availability, superior performance, automatic failover, and fully managed service.
Cloud Sites packages are based off shared hosting plan pricing, and also comes in Hatchling, Baby, and Business Plans. Cloud Hatchling starts at the regular price of $12.95 monthly, Cloud Baby at $13.95 monthly, and Cloud Business at $19.95 every month.  Currently, all prices are discounted at 20% off.
HostGator trial, refund policy, and money-back guarantee:
HostGator offers free trial coupons for its new customers and a 45-day money-back guarantee.
>> Check for latest HostGator pricing discount plans <<
---
Conclusion and Recommendations:
Who is best for?
HostGator works best for users and small businesses who are looking for hosts that offer unmetered bandwidth and unlimited disk space and are inexpensive to boot. Those who are looking to use programming languages besides PHP such as Python or Perl will be glad to use this provider.
However, given its sluggish speeds and uptime performance can derail SEO initiatives. Also, their stingy backups are worrisome.
Hostgator Alternatives:
We recommend using SiteGround or Bluehost as an alternative to HostGator. Both providers have the edge on speed, uptime, and security.
---
FAQ:
Who owns HostGator?
The large conglomerate Endurance International Group (EIG) owns HostGator, along with other hosting companies such as iPage, BlueHost, Dotster, and A Small Orange.
I prefer Linux hosting. Can HostGator help me?
Definitely. HostGator caters to users who use Windows and Linux. Windows users get Plesk for their control panel while Linux users get cPanel.
Does HostGator have SSH access?
Yes, HostGator grants secure shell (SSH) access, allowing you to access an SSH server-run computer remotely. HostGator SSH access is available in all Linux hosting packages except for the Optimised WordPress Plan.
---
That's all for now:
Thanks for reading our HostGator WordPress hosting review and don't forget to keep an eye out for our ever-growing blog of review and comparison articles. Check out related reliable web hosting, website builder, and eCommerce platform review and comparison articles.
Not only the best tea/coffee maker on the team Sophie is our Chief Editor. Skilled across multiple marketing skill areas Sophie is our all rounder and a great asset to the team. Sophie is a website building trainer and tech writer who takes pride in helping small businesses and startups build their websites and launch their eCommerce platforms. Sophie is also the practical joker of the team and always wears a smile on her face. In her spare time she likes to spend her time with family. She loves going on holidays and spending time with friends.