Do you want to skip the read and get right to my top picks? The top free eCommerce platform for most people is Square Online. 
---
Introduction:
Today is the perfect time to be entrepreneurial, especially as brick and mortar businesses rapidly shift to the digital. A Fortune article highlights this reality: web hosting services saw their subscription up the roof by 141% in 2020. However, if it's your first time selling products – physical or digital –online, it will take time and financial resources until you can get your sea legs on. That's why we prepared this guide for newbies who are looking to create an online store without emptying their pockets. In this article, we answer the question – are there free eCommerce platforms you can use? What is the best free eCommerce software that can help you get your online store up and running?
We've helped hundreds of businesses jumpstart their eCommerce career with our digital marketing services. Based on our own experience using these platforms and careful evaluation/testing, we present our list of the best free eCommerce platforms to use for your online store.
---
What are free eCommerce platforms?
First things first: is there such a thing as free eCommerce software? As a refresher, an eCommerce platform is any software that allows anyone to buy and sell goods online. Usually, it has a search function where customer can locate a product, a cart to manage their orders, and a checkout and payment process.
To answer the query if a free eCommerce software does exist – yes. Today, almost all popular eCommerce platforms allow you to use their software for free, whether through a free plan or a free trial offer.
But what's the difference between free eCommerce software and a paid one?
---
Free vs Paid eCommerce Platform: What's the Difference?
If we're really strict about it, it's impossible to create an eCommerce website without shelling money. As such, there aren't completely entirely free eCommerce platforms.
For example, free open source eCommerce platforms are completely free and highly customisable. While the platform itself doesn't let you pay to use it, you may need to pay for other costs, including domain, website hosting, payment processing, and others. You also need to maintain your store through upgrades, patches, and the like.
---
Our Handpicked Top 5 Free eCommerce Platforms:
With the above criteria in mind, here is our list of the top 5 best free eCommerce platforms you can use to earn from your online business.
Bonus: Shopify (free trial) – Top eCommerce Platform (unlimited products, 4 payment gateways, 0%* transaction fee)
---
How to Choose the Best Free Ecommerce Platforms?
In developing this guide to the best free eCommerce software, we evaluated each product based on specific criteria. The end goal is to get an eCommerce platform that gets you started at zero to minimal cost.
Thus, every platform vetted here was assessed on these counts:
Ease of Use – is it easy to use? If there is a learning curve, how steep is it?
Features and Flexibility – does it have features in place to build and grow your business? What are its native functionalities, themes and templates, customisation options, third-party apps integration capability, hosting, backups, and migration?
SEO and Mobility – will it be able to make your online store rank well?
eCommerce Tools – how good is it for marketing and selling your products online?
Support and Resources – if you need help navigating the eCommerce platform, what support and resources are on hand?
Pricing – what does their free offering entail? If you do upgrade to a paid plan, what's the value for money like?
---
Our Top 5 Free eCommerce Platforms in Detail:
Get to know our handpicked free eCommerce platforms below:
Square Online
Square Online is powered by Weebly's site-building technology to produce a free eCommerce platform. The platform has gained popularity with its entirely free plan with zero monthly fees, although payment processing fees apply. Square Online stands out due to its use of ADI to make store creation easy, responsive support, and seamless payment system. However, it has limited customisation tools and fewer payment channels than its rivals.
What you can expect from Square Online free eCommerce platform: 2.9% + $0.30 per transaction (thru Square), unlimited products, only 500MB storage, Instagram integration
If you want to upgrade to a paid plan, it starts at $12/month (on annual billing).
Pros:
Extremely easy to set up
User-friendly
Excellent support
Great payment system
Cons:
Limited customisation features
Few payment channels
Can be difficult to scale
---
Big Cartel
BigCartel free eCommerce software is a cloud-based solution most suited for small business who want a cost-efficient way to establish their online presence. It's marketed for small entrepreneurs, artists, and creators.
What to expect from Big Cartel free eCommerce software: you can set up shop via Big Cartel with fewer features such as 5 product limit, 3rd party apps needed, branded subdomain, 3 payment gateways, and zero transaction fees.
If you want to maximise the full-featured version, Big Cartel paid plans start at $9.99 per month.
Pros:
Ideal for crafts and artistic products
Requires 0% transaction fees
Guidance when creating your store
Cons:
Themes and designs not as extensive as peers
There is a learning curve
Inadequate sales features
---
Weebly
Weebly offers the most liberal free eCommerce plan in the bunch. It has come out of its shell from being one of the most trusted website builders to being a robust eCommerce platform, besting Wix eCommerce and Squarespace eCommerce.
What you can expect from Square Online free eCommerce: 2.9% + $0.30 per transaction (thru Square), Weebly domain, unlimited products. A paid Weebly plan with eCommerce features starts at $12 per month.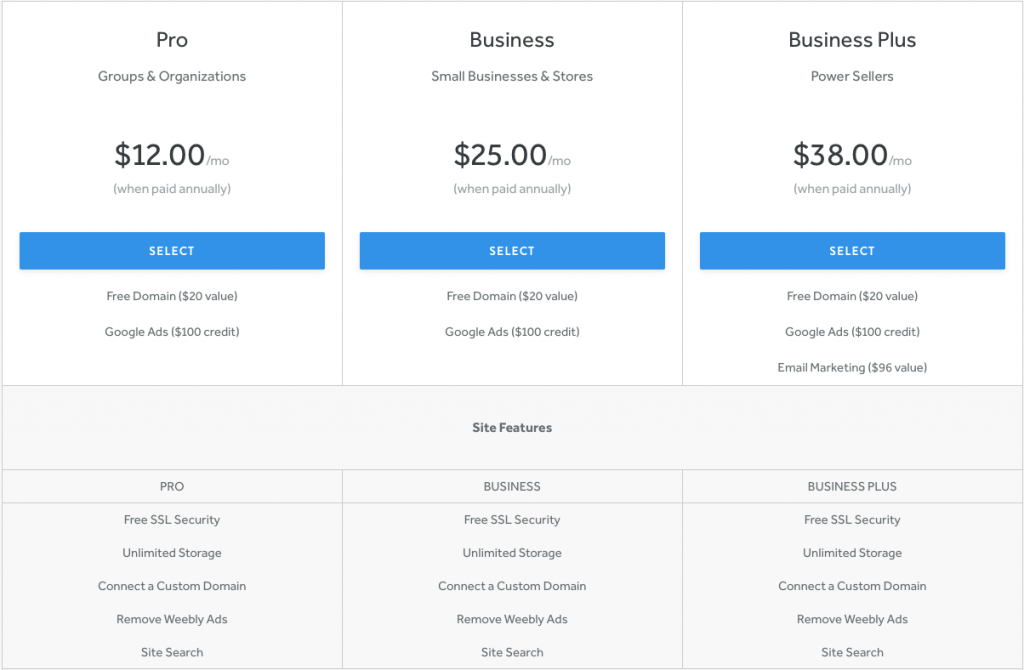 Pros:
Extremely easy to use
Unlimited products
Cons:
No multichannel selling function
Features lacking for large companies
---
WooCommerce
WooCommerce is the most popular free open source eCommerce platform. When we say open source, we mean that it's completely free to download and install. Also, because it's open-source, it's completely customizable and runs on any web hosting provider. For its part, WooCommerce recommends Bluehost or SiteGround for web hosting.
What you can expect from WooCommerce free open source eCommerce platform: unlimited products, 7 payment gateways, 0% transaction fee.
While WooCommerce is 100% free, there are additional costs to get your store live. You need to pay for a domain name ($12 yearly), reliable web hosting service with WordPress partner Bluehost or Siteground ($5 to $25 per month). Also, you may need to pay additional costs for premium themes and plugins.
Pros:
Full control
Highly customisable
Plenty of plugins to use
Cons:
No transaction fees
You need to pay for additional costs
Requires experience with WordPress
---
Magento
What if your goal is to set up a large store? Which free eCommerce software works best? Magento is the answer. The platform isn't designed for SMEs; it's an enterprise-level eCommerce platform that's perfect for growth and scalability, but you can download it for free.
What to expect from Magento free open source eCommerce platform: Unlimited products, 10+ payment gateways, 0% transaction fees
If you want to use Magento as it should be, pricing is customised and quite steep. Annual costs can reach as much as £10,000.
Pros:
Highly scalable
Completely customizable
Robust features on their paid plans
Cons:
Setup can be challenging
Not ideal for beginners, Magento isn't for those who don't know code
Expensive
---
Bonus: Shopify
This platform ranks highly on our list, making it our best all-around eCommerce platform. With an expansive set of features, customizability, and scalability, it caters to businesses of all sizes – from small, midrange, and large. Even better, it's highly adaptable because it allows you to sell through multiple channels, including social media.
Shopify offers a two-week free trial to those who are curious. You can use Shopify's tools at no expense, upload unlimited products, zero transaction fees, and four payment gateways. If you're blown away by the platform, an upgrade to the cheapest plan will cost you $29 per month.
---
Conclusion and Recommendation:
Wrapping up this guide on the top free eCommerce website builders, we've made 5 recommendations. Based on our testing and experience, Square Online is the best options for free eCommerce software.
However, it's always better to weigh your needs and requirements before jumping on the bandwagon. Look up and test other free eCommerce platforms and free open source eCommerce platforms other than what we recommend and judge for yourself.
---
FAQ:
Is there a catch with a free eCommerce site builder?
As it with free things, there's always a catch. A free eCommerce software or a free open source eCommerce platform is no different. Since you're not paying anything to use the platform, you also can't maximise its full functionality. As a result, certain features are off-limits to you. Therefore, it's important to set expectations if you do decide to use a free eCommerce software.
Do you recommend using a free platform for eCommerce?
A free platform works best if you're testing the waters or if you have minimal needs. However, if your purpose is to build, grow, and thrive commercially, we recommend upgrading to a paid plan.
---
That's all for now:
If you've read all the way through this best free eCommerce platforms guide, we are thankful and hope you can now answer the question on what a free platform for eCommerce can do! We invite you to our large collection of articles, guides, and comparison reviews of Best Website Builders, eCommerce solutions, web hosting providers, website builders, and more! Feel free to check them out;