Do you want to skip the read and get right to my pick in this Dreamhost vs Hostgator comparison? The better web hosting provider for most people is Hostgator.
---
Introduction:
One key point of consideration for today's site creators is finding a robust and reliable web hosting service that doesn't take forever to set up and also doesn't give too many headaches when it comes to management.
For our Dreamhost vs Hostgator review, we are pitting together two of the best basic/standard hosting services currently available. We will be seeing how Dreamhost and Hostgator stack up when it comes to ease of use, functionality, and value for money.
---
Overview:
Dreamhost:
DreamHost is an American web hosting provider based in Los Angeles, California. It's one of the early movers in the web hosting industry, being founded in 1996.  Now, it hosts around 1.5 million websites worldwide.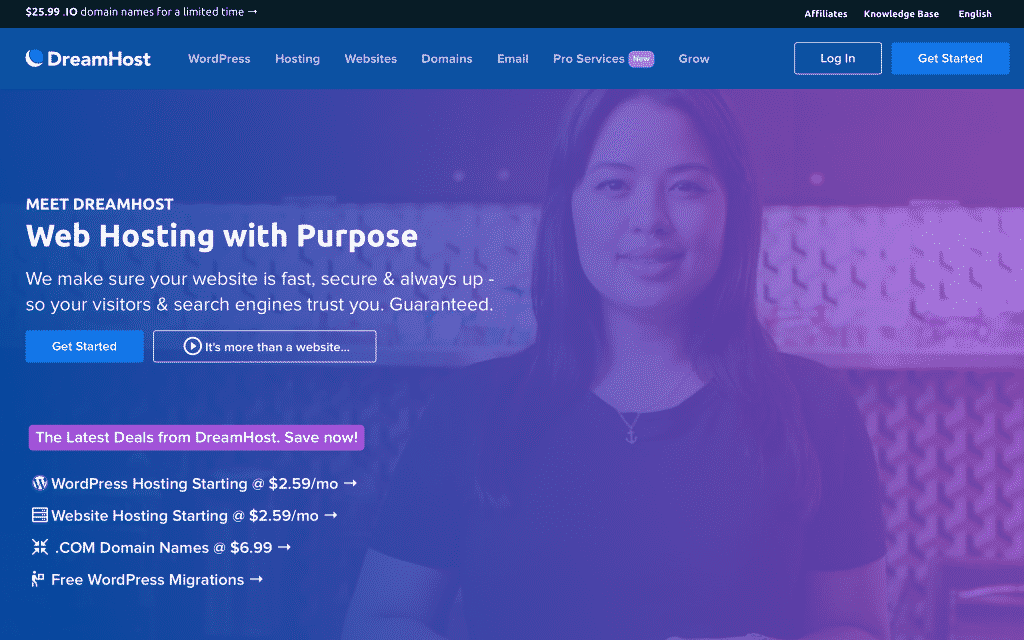 Hostgator:
Hostgator is a Texas-based web hosting firm that's known for offering a suite of hosting services, such as shared, reseller, VPS hosting, and dedicated web hosting.  It is one of the first companies to come up with the concept of "unlimited" hosting services.
---
Ease of Use:
First things first – let's evaluate how user-friendly Dreamhost Hostgator are:
Dreamhost:
As one of the easiest hosting platforms currently available, Dreamhost's user interface (UI) is also one of the simplest to get into and the learning curve isn't steep at all. Indeed, you can create an account now, wait a little bit for verification, and start working on setting up your site host in next to no time at all.
Hostgator:
Like Dreamhost Hostgator also ranks highly among the easiest hosting platforms in the industry. For those working on smaller sites, the interface is easy to navigate and – if you have absolutely no idea as to how to actually build a site – it has its own site building platform called Gator to work with. It also makes on-boarding a no-stress affair thanks to video tutorials as to how to use the platform.
So – which between Dreamhost vs Hostgator wins with respect to ease of use?
Winner – Hostgator! Hostgator takes this round of the Dreamhost vs Hostgator debate as it makes usage so much easier and throws in a proprietary site builder into the deal.
---
Features:
Now, let's look at what features Dreamhost Hostgator have in store for users:
Domain Names:
Dreamhost:
Unlimited is a concept you'll frequently encounter where Dreamhost is concerned. It offers an unlimited range of domains as well as subdomains. Domain privacy is also assured via a feature called WHOIS and the platform has its own registry.
Hostgator:
Hostgator's Hatchling plan may only offer a single domain, but its mid-tier and premium hosting plans offer an unlimited array for users.
Email Rating:
Which between Dreamhost Hostgator offers better email services?
Dreamhost:
Email hosting is dependent on the plan that you have, so we'll say it now: you'll have to pay extra for email if you're opting for Dreamhost's most basic hosting plan. But, if you're willing to shell out a bit more for a higher-priced plan, email is already included and you can create as many mailboxes as you need.
Hostgator:
Hostgator allows users to create as many email inboxes as they need regardless of what hosting plan they've subscribed to.
Databases:
Dreamhost:
Those on shared webhosting plans are allowed to create an unlimited number of MySQL databases for their websites.
Hostgator:
Like Dreamhost Hostgator accounts allow for an unlimited number of MySQL databases with phpMyadmin access.
Applications:
Which between Dreamhost vs Hostgator offer better apps for added website functionality?
Dreamhost:
WordPress is included in practically all of Dreamhost's shared hosting plans, so users can install and use the full range of plugins offered by the site building platform, including the WooCommerce store-builder and the Jetpack migration tool.
Hostgator:
Need a script fast? Hostgator allows users to easily install over 75 open-source scripts to improve the functionality of their sites. Along with WordPress, the platform also allows one-click installation of ecommerce platform Magento, CMS editors Joomla and Drupal, and even lets users create wiki pages with MediaWiki.
WordPress:
One-click WordPress installation is available on both platforms.
Site Staging:
Dreamhost:
Staging is only available for users with shared WordPress hosting plans. The staging feature included in the WordPress interface gives users and developers a sandbox in which they can test sites for functionality and browser appeal before going live.
Hostgator:
Compared to Dreamhost Hostgator allows two ways by which you can stage a site prior to deployment. The first is to use the standard staging feature which comes when you install WordPress. The other – just in case you'd rather not use a CMS-driven platform for your site – is to use an app by Softaculous which also allows users to stage sites to determine key issues before going live.
Website Builder:
Who has a better website builder – Dreamhost vs Hostgator?
Dreamhost:
Dreamhost tries to give its customers the best of both worlds – CMS-driven WordPress building and a drag and drop interface – with a hybrid website builder to make site creation so much easier.
The hosting service also offers over 200 templates for its builder, allowing users to choose one that will give their sites a look appropriate to their brand identity and the nature of their business.
Our only issue here, though, is that the block-driven design module can be cumbersome to work with after a while – it's not very responsive.
Hostgator:
Gator, the platform's site building platform, may come off as a bit basic, but it already has a number of customization tools built into – its Basic Style Tool Kit – to help users create simple yet effective websites.
Along with provisions for adding and editing text, there are also tools for the adjustment of elements within the page (so as to revise any overlaps, as previously mentioned), size adjustment, as well as pre-configured element designs.
Like Dreamhost Hostgator also offers a diverse selection of templates in several categories: business and consultancy, music and entertainment, and business and consultancy among others. They are rather easy to use, but editing them can be a pain: elements tend to overlap or get piled on top of each other if you don't fix the spaces beforehand.
eCommerce and SSL certificate:
What about eCommerce and SSL certificates – who between Dreamhost vs Hostgator offers better?
Dreamhost:
Dreamhost's ecommerce plans work with WordPress' WooCommerce plugin to help users create functional online stores. The hosting service gives users options that range from basic utilities to help them set up shop to high-capacity site architecture for growing businesses.
In which case, all plans covered already have WooCommerce preinstalled, along with the proprietary Storefront design template.
Also, regardless of whether these are for ecommerce or standard use, all hosting plans already have a free SSL certificate.
Hostgator:
Thanks to Gator, Hostgator users can actually integrate social media widgets into their website, allowing a wider field for marketing products or services.
The hosting service's ecommerce capabilities are built into the system and these include storefront management tools, integrated shipping, product management, payment portals, and provisions for international transactions and variants. There are also provisions that allow online stores to interface with PayPal and Stripe to facilitate online payments. The platform also gives users between $100 and $150 in online advertising credits.
All hosting plans come with a free SSL certificate, and ecommerce users can actually upgrade theirs to the more secure Positive SSL.
Security and Backups:
Dreamhost:
Along with Let's Encrypt SSL, Dreamhost already includes a privacy protection feature with all its hosting plans, allowing users and their customers or site visitors to work or browse without worrying that their personal information has been compromised.
Automated backups are offered across all plans, while backups on demand are also offered for ecommerce-specific hosting packages.
Hostgator:
Directories for Hostgator sites are all password-protected and the platform also offers round-the-clock server monitoring.
Winner – Hostgator! When it comes to features and functionality between Dreamhost vs Hostgator, we are giving this match to Hostgator.
---
Performance:
How does Dreamhost Hostgator perform in terms of server locations, speed, and average uptime?
Server Locations:
Dreamhost:
Dreamhost only has two data centres and both of them are in the United States. One is in Ashburn, Virginia, and the other is in Hillsboro, Oregon.
Hostgator:
The platform's main data centres are in Provo, Utah and Houston, Texas, with over 23 Cloudflare-powered sub-centres in Asia, Europe, and Australia.
Speed Results:
Dreamhost:
Loading speed is not one of Dreamhost's stengths. On average, it takes 2.27 seconds for a site hosted on the platform to load completely.
Hostgator:
You want fast? Hostgator gives you fast: sites hosted on the platform can load completely in as quickly as 0.20 seconds.
Average Uptime, Bandwidth, and Webspace limits/Storage:
Dreamhost:
Dreamhost's current uptime guarantee is at 100%.
Bandwidth is unlimited, while storage can run between 30GB and 120GB depending on your hosting plan.
Hostgator:
Uptime is currently pegged at 99.995, while both bandwidth and storage are unlimited across all hosting plans.
Winner: Again, we are giving this match to Hostgator.
---
Support and Resources:
Dreamhost:
The platform offers 24/7 multi-channel service, but we were stumped when we tried to use the live chat widget on their site. The bot-driven service is frustrating to say the least and it can take a while before service options load. Also, it's only available between 8am and 4pm PST from Monday to Friday.
The best alternative is to research through their well-run knowledge base and check out various topics on the highly active discussion forums. Calling their phone service is also recommended.
Hostgator:
Customer service and technical support are available 24/7 via live chat, phone, and email, but these channels can get very busy. The solution: sign up for mid- to top-tier subscriptions so that you can be given priority service.
However, unlike Dreamhost Hostgator's knowledge base is a bit skimpy, as it responds primarily to keywords and you may have trouble getting answers to more complex questions.
Winner – Dreamhost! in this 'Support and Resources' section of this Dreamhost vs Hostgator showdown.
---
Pricing:
Which between Dreamhost Hostgator offers more value for your money?
Plans:
Let's weigh what Dreamhost vs Hostgator subscription plans are.
Dreamhost:
Under basic Shared hosting, users can choose between two plans: Shared Starter at $2.59 monthly and Unlimited at $4.95 a month. While the packages share the bulk of the features, the former doesn't have free email.
Managed WordPress hosting under the DreamPress umbrella will set users back by a reasonable $16.95 to a staggering $71.95 monthly.
For those who want a more secure option, the VPS WordPress hosting plans are reasonably priced. The range runs between $10.00 to $80.00.
>> Check for our latest Dreamhost discount code pricing plans <<
Hostgator:
Hostgator's three shared hosting plans will set you back between $2.75 and $5.25 monthly.
Managed WordPress hosting is slightly more expensive, but the range isn't as high as Dreamhost's. Hostgator for WordPress runs between $5.95 and $9.95 monthly.
>> Check for our latest Hostgator discount code pricing plans <<
Free trial, refund policy, and money-back guarantee:
Dreamhost:
Dreamhost doesn't offer free trials, but it has one of the longest money-back guarantees in the industry: you can ask for a refund within 97 days of signing up. Note, however, that this only applies to basic and VPS hosting; the managed WordPress hosting plans only allow for the standard 30-day period.
Hostgator:
Hostgator doesn't offer free trials, but it does have a 45-day money back guarantee. Users may get up to 98% of what they paid for back if they decide to cancel their subscriptions within the period, less prepaid service fees.
Winner – Hostgator! in this 'Pricing' section of the Dreamhost vs Hostgator comparison.
---
Comparison Winner: Dreamhost or Hostgator?
We are giving this battle to Hostgator. Along with highly reasonable prices, it also offers the most in terms of features and functionality.
---
Conclusion and Recommendations:
What is Dreamhost best for?
Dreamhost works well if you're just starting out because of its easier-to-use site building platform. It's also a great choice if you're already scaling up your site to meet the demands of a growing business.
What is Hostgator best for?
Given the diversity of its features and its robust framework for ecommerce, we recommend Hostgator for small- and medium-scale businesses with the potential to grow over time.
Alternatives:
| Ranking | Key Features | Price (Basic Plan) | My View |
| --- | --- | --- | --- |
| 1. Bluehost | 50GB storage, unmetered bandwidth, free domain 1st year, free SSL certificate | $2.95/month Check Pricing | Best for beginners and WordPress websites |
| 2. SiteGround | 10GB Web Space, ~10,000 Visits Monthly, Unmetered Traffic, Free WP Installation, Free WP Migrator, Free SSL, Free Email, Daily Backup, Free CDN, Managed WordPress, Unlimited Databases, 100% renewable energy match | $3.99/month Check Pricing | Best for WordPress websites and features excellent customer support |
| 3. DreamHost | Fast SSD storage, free domain, automatic WordPress updates, free SSL certificate | $2.49/month Check Pricing | Best for non-profits as it offers a free plan for them |
| 4. A2 Hosting | Unlimited SSD Space & Transfer, Free & Easy Site Migration, Free Automatic Backups, Anytime Money Back Guarantee | $2.99/month Check Pricing | Best for speed with their turbo servers |
| 5. HostGator | Unmetered bandwidth & disk space, free domain, free SSL certificate | $2.75/month Check Pricing | Best for small businesses and startups |
| 6. WPX Hosting | High-speed, custom CDN, unlimited site migrations, unlimited SSLs, 24/7 fast-response support | $20.83/month Check Pricing | Best for those seeking high-speed hosting and excellent customer support |
| 7. Kinsta | Google Cloud Platform, 24 global locations, next-generation infrastructure, free migrations, 24/7 support | $30/month Check Pricing | Best for those wanting Google Cloud hosting and multiple global locations |
| 8. Nexcess | Auto-scaling, automatic plugin updates, automatic backups, 24/7 support | $19/month Check Pricing | Best for eCommerce with its auto-scaling feature |
| 9. LiquidWeb | Fully managed, dedicated IP, DDoS protection, 24/7 support | $19/month Check Pricing | Best for fully-managed hosting and those needing a dedicated IP |
| 10. Scala Hosting | Free domain, SSD powered, free website migration, 24/7 support | $3.95/month Check Pricing | Best for those looking for a free domain and SSD powered hosting |
Final word:
Hostgator may have come away as the best here, but we recommend that you trial for a hosting service that suits your particular requirements.
Click for the best Hostgator pricing
---
FAQs:
Is Hostgator strictly for site hosting?
No, while Hostgator is primarily a site hosting service, it also allows users to create their own websites using their Gator site builder feature.
Do either of these hosting services offer virtual private servers?
Yes, Dreamhost has several VPS hosting plans with numerous features that users can consider for their sites.
---
That's all for now:
If you've read our Dreamhost vs Hostgator comparison review up to here, we are grateful. Remember always to keep abreast of the latest developments on reliable hosting providers, website builders, eCommerce, and other articles, such as the ones below;
Please share any comments below!