Do you want to skip the read and get right to my pick in this Dreamhost vs GoDaddy hosting comparison? The better web hosting provider for most people is Dreamhost.
---
Introduction:
Who is the better web host this year – Dreamhost or GoDaddy?
With online shoppers increasing by the day, this means that one's website and/or online store needs to be hosted on a more stable, more secure, and certainly more reliable network.
In this review, we pit Dreamhost vs GoDaddy Hosting as a potential choice for a reliable web hosting service. Both platforms have their respective followings, as these have been around for quite a while now.
Our Dreamhost vs GoDaddy Hosting review will see how each of these platforms works in terms of features and functionality, efficacy as an ecommerce hosting service, pricing, and after-sales care.
---
Overview:
Dreamhost:
Founded in 1996, Dreamhost is one of the older hosting services in the industry. The Los Angeles-based hosting provider offers web hosting, file hosting, application hosting, as well as cloud-hosting service called Dream Objects and Dream Compute for developers: an online depository of scalable resources for software application development.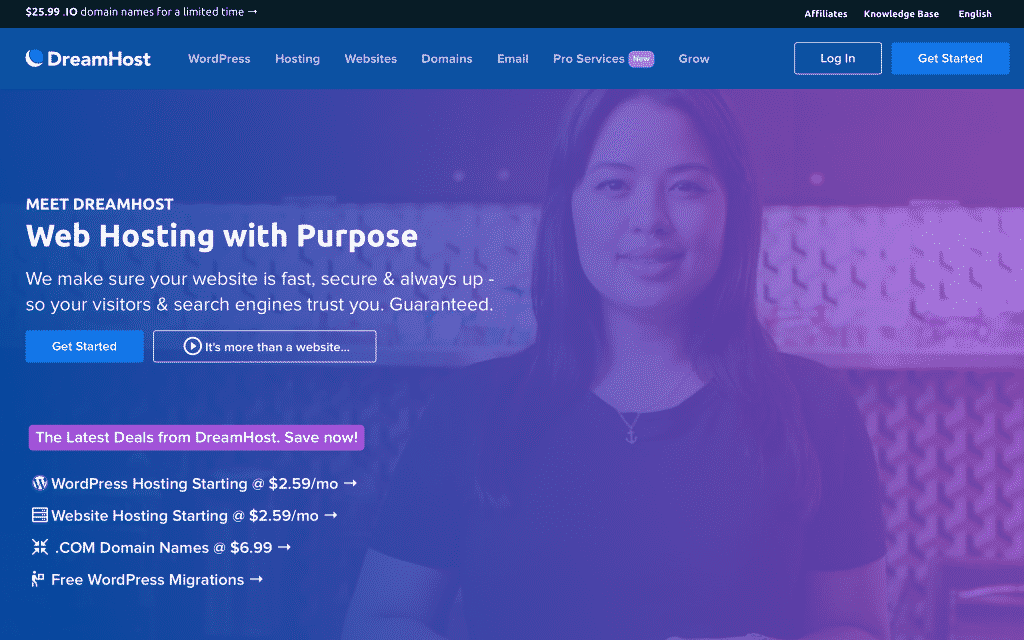 GoDaddy:
Considered the world's largest web hosting service by market share, GoDaddy is a year younger than Dreamhost as it began operations in 1997. The Arizona-based company offers web hosting, its own domain registry, a domain appraisal tool called GoValue, and GoDaddy Auctions, an online marketplace similar in principle to eBay.
---
Ease of Use:
To begin our Dreamhost vs GoDaddy Hosting review, let's tackle ease of use.
Dreamhost:
Considered one of the easiest hosting services to get into, Dreamhost prides itself on a user interface (UI) that you needn't take forever to learn to use. It's actually easy to get an account, wait for the verification email to hit your inbox, have your account verified, and – literally, away you go to set up a working site on a stable managed hosting server.
GoDaddy:
We'll be honest: unlike Dreamhost GoDaddy is more tedious. The time between sign-up and actual set-up is challenging, to say the least. Between sign-up and verification, GoDaddy tends to bombard new users with pop-up promotions for various add-ons to its standard packages. Still, once you've managed to get out of that phase of sign-up, the UI is quite easy to use and it's pretty much smooth sailing from there.
Winner – Dreamhost! in this Dreamhost vs GoDaddy hosting 'Ease of Use' comparison.  We prefer a hosting service that's all business from the get-go, not one that keeps pitching new products while we're trying to get things done for our sites.
---
Features:
Now let's turn to what features both our contenders – Dreamhost Godaddy – have in store.
Domain Names:
Dreamhost:
Under its standard packages, Dreamhost offers an unlimited range of domains, domain names, as well as sub-domains. Another draw is the use of a proprietary feature called WHOIS to ensure domain privacy, as well as the platform's own domain registry.
GoDaddy:
Compared to Dreamhost GoDaddy only allows one domain per subscription – and you need to keep paying a renewal fee annually. While you have the option to have multiple domains and domain names on the platform's other subscription plans, you may rethink your decision when you see the prices that GoDaddy charges.
Email Rating:
Dreamhost:
Unfortunately, Dreamhost does not offer an email service or even just one email inbox at its most basic package. However, premium plans on the platform allow users to create an unlimited number of email accounts on their domains.
GoDaddy:
Unlike Dreamhost GoDaddy has an email service. GoDaddy's basic plans – Economy and Deluxe – enable users to have between 100 to 500 emails while premium subscriptions may have an unlimited number of email addresses.
Databases:
Dreamhost:
Subscribers to Dreamhost's shared hosting plans are allowed to create an unlimited number of MySQL databases for their websites.
GoDaddy:
Compared to Dreamhost GoDaddy's standard database size is 1GB and how many you're allowed to create is dependent on the service package you signed up for. In practice, you get 10 databases on an Economy plan, 25 for a Deluxe plan, and an unlimited number for those in higher tiers.
Applications:
Which between Dreamhost vs GoDaddy hosting interfaces with more applications?
Dreamhost:
Dreamhost's shared hosting plans usually include a free installation of WordPress's open-source edition which gives users access to the platform's full range of plugins, including store builder WooCommerce and Jetpack for migration from one host to another.
GoDaddy:
GoDaddy's control panel interface (cPanel) enables users to install third-party building platforms like Joomla and Drupal, as well as ecommerce-specific builders like Magento and Squarespace.
WordPress:
While both Dreamhost GoDaddy includes a free WordPress install with their hosting packages, GoDaddy takes the lead in this category as your standard subscription already includes updates for core software and security.
Site Staging:
Does Dreamhost vs GoDaddy hosting support site staging?
Dreamhost:
Dreamhost's staging feature is only offered for users who built their sites using WordPress. Pre-built into the WordPress UI, this staging feature works as a microlab where developers can test sites for functionality, browser appeal, security, and stability prior to going live.
GoDaddy:
You pretty much get the same deal with GoDaddy, as staging appears to be exclusive to WordPress shared and managed hosting. Also, keep in mind that this hosting service has its own specific procedure to follow when it comes to creating your staging site.
Website Builder:
Which between Dreamhost or GoDaddy has the better website builder?
Dreamhost:
Along with the CMS-driven WordPress builder that comes with that particular app, Dreamhost offers its own hybrid website builder with more than 200 design templates to choose from depending on what industry your site belongs to as well as your own personal aesthetic.
However, we need to make it clear here that this block-centric design platform isn't very tractable or responsive, making it a challenge to work with.
GoDaddy:
Unlike Dreamhost, GoDaddy has its own Godaddy Website Builder and GoDaddy Online Store. However, the thing about GoDaddy's proprietary site builder is that it's very basic: you don't have that much to work with in terms of functionality and not that much to choose from in terms of design.
However, you have to admit that it does make the site creation process so much easier. The GoDaddy builder UI has something in common with WIX: it's AI-driven, and all you need to do is answer a few questions to create a very simple yet functional website.
eCommerce and SSL certificate:
Which is better for eCommerce – Dreamhost or GoDaddy?
Dreamhost:
When it comes to creating an online retail hub, Dreamhost maximises its connection to WordPress, particularly that platform's WooCommerce store-builder plugin. WooCommerce plugin to help users create functional online stores.
All of the platform's managed hosting plans have WooCommerce preinstalled together with its proprietary Storefront design template, as well as a free SSL certificate.
GoDaddy:
This hosting service's Starter eCommerce plan comes with several features: the ability to offer up to 100 products, over 40 payment gateways, integration with social media marketplaces, and the ability to create multiple pages in a number of categories. The Premium plan offers an expanded version of these features, along with multiple language support, couponing, inventory management, and advanced stock control. All subscription packages also include a free SSL certificate.
Security and Backups:
Dreamhost:
All subscriptions include a privacy protection feature along with Let's Encrypt SSL
Automated backups are offered across all plans, while backups on demand are also offered for ecommerce-specific hosting packages.
GoDaddy:
Compared to Dreamhost GoDaddy hosting service monitors its systems for potential hacking or DdoS attacks at all times. Note, however, that regular automated backups are only included for premium subscription packages.
Winner – DRAW! We're calling this phase of the Dreamhost vs GoDaddy hosting match-up a draw.
---
Performance:
Server Locations:
Dreamhost:
Dreamhost only has two data centres and both of them are in the United States. One is in Ashburn, Virginia, and the other is in Hillsboro, Oregon.
GoDaddy:
GoDaddy servers are found in the United States, Europe, and Asia. Users can choose the server closest to their physical location for better site performance. Note also that server support teams are localized: check their website to see if there's a GoDaddy team servicing your country.
Speed Results:
Dreamhost:
In standard circumstances, it takes 2.27 seconds for a site hosted on the platform to load completely.
GoDaddy:
On average, sites hosted via GoDaddy will load in an average of 2.50 seconds.
Average Uptime, Bandwidth, and Webspace limits/Storage:
Dreamhost:
Dreamhost's current uptime guarantee is at 100%.
Bandwidth is unlimited, while storage can run between 30GB and 120GB depending on your hosting plan.
GoDaddy:
Unfortunately unlike Dreamhost GoDaddy falls slightly behind the industry standard, as its uptime only clocks in at 99.90%.
On the upside, though, bandwidth and data storage are both unlimited.
Winner – Dreamhost! This was a close one, but we're giving this 'Performance' phase of Dreamhost vs GoDaddy hosting  comparison to Dreamhost.
---
Support and Resources:
What level of support and resources might you expect from Dreamhost vs GoDaddy hosting?
Dreamhost:
The platform offers 24/7 multi-channel service, but their live-chat widget needs work. The bot-driven service can take a while before service options load, and it's only available between 8am and 4pm PST from Monday to Friday.
The best alternative is to research through their well-run knowledge base and check out various topics on the highly active discussion forums. Calling their phone service is also recommended.
GoDaddy:
Like Dreamhost GoDaddy's 24/7 technical support has long been one of the hallmarks of the hosting service, and it continues to be offered across the board to all subscription packages. You can get in touch with the support team via phone or live chat and they are pretty much online all the time – just don't expect easy answers when it comes to more complicated technical issues. Also, we feel that the platform's knowledge base isn't being updated more frequently.
Winner – Dreamhost! We're giving this win under the 'Support' section of our Dreamhost vs GoDaddy hosting showdown to Dreamhost.
---
Pricing:
Let's talk bang for your buck. Which offers more value for your money – Dreamhost or GoDaddy?
Plans:
How affordable and extensive are hosting plans in Dreamhost or GoDaddy?
Dreamhost:
Shared website hosting plans (Starter and Unlimited) range from $2.59 to $4.95 monthly on annual billing.
Basic WordPress Hosting plans include WordPress Starter at $2.59 monthly and WordPress Unlimited at $3.95 a month. While the packages share the bulk of the features, the former doesn't have free email.
Managed WordPress hosting under the DreamPress umbrella will set users back by a reasonable $16.95 to a staggering $71.95 monthly.
For those who want a more secure option, the VPS WordPress hosting plans are reasonably priced. The range runs between $10.00 to $80.00.
Managed WordPress hosting under the DreamPress umbrella will set users back by a reasonable $16.95 to a staggering $71.95 monthly.
Dedicated server hosting is also available with prices ranging from $149 to $279 per month.
>> Check for our latest Dreamhost discount code pricing plans <<
GoDaddy:
GoDaddy offers a free plan – but you don't get your own domain. Instead, the *.godaddysites.com suffix will be appended to your site URL.
It also has the following hosting plans available:
Shared Hosting:
Four plans (Economy, Deluxe, Ultimate, Maximum) ranging from $5.99 to $19.99 monthly.
WordPress Hosting:
Four WordPress-centric hosting plans (Basic, Deluxe, Ultimate, Pro) are priced from $6.99 to $24.99 monthly.
VPS Hosting:
GoDaddy has four VPS hosting services with price ranging from $4.99 to $69.99 monthly.
Dedicated Hosting:
Four dedicated hosting plans (DS-32, DS-64, DS-128, DS-256), priced from $129.99 to $399.99 monthly.
Meanwhile, VPS plans for enterprise-grade sites will set you back between $16.99 and $31.99 monthly.
>> Check for our latest Godaddy discount code pricing plans <<
Free trial, refund policy, and money-back guarantee:
Dreamhost:
Dreamhost doesn't offer free trials, but it has one of the longest money-back guarantees in the industry: you can ask for a refund within 97 days of signing up. Note, however, that this only applies to basic and VPS hosting; the managed WordPress hosting plans only allow for the standard 30-day period.
GoDaddy:
Unlike Dreamhost GoDaddy's standard free trial will run for a month; afterwards, you will need to sign up for a premium account or risk the deletion of your site.
Note that refunds are only given if the subscription is cancelled prior to the end of the current billing cycle.
While GoDaddy does have a money-back guarantee, it only applies to cancellations of annual contracts.
Winner – GoDaddy! If we're going to talk about options and pricing, GoDaddy takes this 'Pricng' match in the Dreamhost or GoDaddy showdown.
---
Comparison Winner: Dreamhost vs GoDaddy Hosting
Technically, both platforms offer an extensive range of options depending on the specific needs of site owners. However, all things considered, we have to yield to Dreamhost as Comparison Winner in this Dreamhost vs GoDaddy derby.
---
Conclusion and Recommendations:
Now, let's wrap up our reliable hosting comparison – Dreamhost or GoDaddy?
What is Dreamhost best for?
Dreamhost works well if you're just starting out because of its easier-to-use site building platform. It's also a great choice if you're already scaling up your site to meet the demands of a growing business.
What is GoDaddy best for?
We recommend GoDaddy for those who are heavily into ecommerce but would also like a no-frills approach to site creation and deployment.
Alternatives:
| Ranking | Key Features | Price (Basic Plan) | My View |
| --- | --- | --- | --- |
| 1. Bluehost | 50GB storage, unmetered bandwidth, free domain 1st year, free SSL certificate | $2.95/month Check Pricing | Best for beginners and WordPress websites |
| 2. SiteGround | 10GB Web Space, ~10,000 Visits Monthly, Unmetered Traffic, Free WP Installation, Free WP Migrator, Free SSL, Free Email, Daily Backup, Free CDN, Managed WordPress, Unlimited Databases, 100% renewable energy match | $3.99/month Check Pricing | Best for WordPress websites and features excellent customer support |
| 3. DreamHost | Fast SSD storage, free domain, automatic WordPress updates, free SSL certificate | $2.49/month Check Pricing | Best for non-profits as it offers a free plan for them |
| 4. A2 Hosting | Unlimited SSD Space & Transfer, Free & Easy Site Migration, Free Automatic Backups, Anytime Money Back Guarantee | $2.99/month Check Pricing | Best for speed with their turbo servers |
| 5. HostGator | Unmetered bandwidth & disk space, free domain, free SSL certificate | $2.75/month Check Pricing | Best for small businesses and startups |
| 6. WPX Hosting | High-speed, custom CDN, unlimited site migrations, unlimited SSLs, 24/7 fast-response support | $20.83/month Check Pricing | Best for those seeking high-speed hosting and excellent customer support |
| 7. Kinsta | Google Cloud Platform, 24 global locations, next-generation infrastructure, free migrations, 24/7 support | $30/month Check Pricing | Best for those wanting Google Cloud hosting and multiple global locations |
| 8. Nexcess | Auto-scaling, automatic plugin updates, automatic backups, 24/7 support | $19/month Check Pricing | Best for eCommerce with its auto-scaling feature |
| 9. LiquidWeb | Fully managed, dedicated IP, DDoS protection, 24/7 support | $19/month Check Pricing | Best for fully-managed hosting and those needing a dedicated IP |
| 10. Scala Hosting | Free domain, SSD powered, free website migration, 24/7 support | $3.95/month Check Pricing | Best for those looking for a free domain and SSD powered hosting |
Final word:
We may have called a draw in the Dreamhost vs GoDaddy matchup, but we recommend that you shop around online for a hosting service that suits your particular requirements.
Click for the best Dreamhost pricing
---
FAQs:
Does Dreamhost or GoDaddy have a free hosting plan?
GoDaddy does, but the features it offers are quite limited and in-house advertising will be placed on your site. Also, a *.godaddysites.com suffix will be appended to your URL.
Does either Dreamhost or GoDaddy offer virtual private servers?
Yes, both Dreamhost GoDaddy does. GoDaddy offers its VPS packages for enterprise-grade site hosting, while Dreamhost has several VPS hosting plans with numerous features that users can consider for their sites.
---
That's all for now:
Thanks for reading our Dreamhost or GoDaddy hosting comparison and don't forget to keep an eye out for our ever-growing blog of review and comparison articles. Check out related reliable web hosting, website builder, and eCommerce platform review and comparison articles such as;
Please share any comments below!