Ease of Use

Features & Flexibility

Support & Resources

Pricing
Do you want to skip the read and get right to my top picks? The best Django hosting service for most people is Bluehost.
---
Introduction to Django Hosting:
Welcome to our guide to Django Hosting.
Do you plan to build a Django-powered website? We get why you went with this content management system (CMS). Over 100,000 sites worldwide run on Django, including bigwigs such as digital pinboard Pinterest and social media platform Instagram.
We understand that Django doesn't produce your garden-variety website. However, with its unique file structure and syntax, it's safe to say your website will have special needs. So before you even plan on going live, we recommend that you shop for the best Django hosting to guarantee your website's performance and reliability.
Since web hosts feature distinct capabilities, we've covered all the groundwork for you to choose the most compatible Django hosts. I and my team have tested several reliable hosting providers – and we're here to present our shortlist of the best Django hosts in the industry right now.
---
What is Django Web Hosting?
Django is a quirky-named CMS and sophisticated Python programming framework. Its founders Adrian Holovaty and Simon Willison named it from well-known Belgian jazz musician Jean Django Reinhardt. Django is an open-source project to which it owes its massive scalability, excellent security, and ease of management to help developers create apps at breakneck speed.
If the website you have in mind fits into the "clean and pragmatic" aesthetic, then Django will help you compose sleek and interactive websites on the fly. Also, because it is open-source, there are no sign-up charges. Thus, anyone can download, use, and modify the CMS to match their specific needs. The thing about Django is that it builds dynamic websites as opposed to static ones. Just look at some of the biggest names who are fans of Django – NASA, National Geographic, and PBS!
So what about web hosting for Django? Since Django is a Python framework, your hosting provider needs to be fully compatible with Django.
Well, you're in luck since this guide will do just that. We are breaking down the top 5 Django hosts for you to consider.
---
What are the Types of Hosting for Django?
Hosting Django websites require VPS and dedicated hosting plans.
In review, dedicated hosting is a hosting option where at least one physical server is dedicated to your site. In other words, you have 100% control over how you manage your hosting. You can configure it any which way to suit your specific needs. Of course, unlike shared hosting, you won't be sharing resources with other users or businesses with Django hosts.
Meanwhile, a VPS (virtual private server) hosting option works quite similarly to a shared web hosting plan. Technically, you'll be sharing resources with other users. What sets it apart from shared hosting is its scalability. You can allot more resources than you would with a shared hosting arrangement.
For this guide, we are focusing on VPS and dedicated hosting plans that are fully compatible with Django.
---
Our Handpicked Best Django Hosts List:
Take a look at a brief rundown of my 5 best Django hosting providers. Then, read about my short review of each further below and decide which one of them might be a good fit for you.
---
How to Choose the Best Django Hosting?
If you want to host Django websites, shared hosting plans won't do. Instead, you need a completely customisable hosting solution that you can scale and configure based on your project's requirements.
Therefore, all Django hosts considered on this list were evaluated and selected based on these criteria:
Features – Django hosts have non-negotiable features such as full root access to the Linux OS, backups, and security.
Performance – We're looking for excellent uptime and fast page load speeds, capable of scaling from small to large projects.
Support and assistance – A best Django hosting provider won't be possible if there isn't excellent support and knowledge databases that you can access.
Pricing – We're not strictly gunning for the lowest prices here, but for fair pricing in the best Django hosting providers.
So, are you ready to get to know the 5 best Django hosting services in the industry up close? Ready when you are.
---
Up Close and Personal Look at our Top Django Hosts
Take a look at the best hosting for Django websites in this section!
Bluehost
An almost constant presence in lists featuring the world's leading hosting services, Bluehost has been in use by WordPress users since 2003 and boasts nearly two million users worldwide. In our opinion, it lives up to the hype. With great features, astounding performance, and 24/7 support, Bluehost bests the others as our favorite hosting for Django. Its VPS and dedicated hosting plans aren't inexpensive, yet you get value for money in exchange.
Features:
Even at its most basic managed VPS plan, Bluehost provides you with the following neat features:
2 GB RAM
1 TB bandwidth
2 cores
1 IP address
30 GB SSD storage
Multi-server management
Access control
Root access, with unlimited FTP accounts
Pros:
Great value for money
Excellent performance and scalability
24/7 support
Terrific features
Cons:
No unmanaged VPS plan that could be cheaper
Python installation is slightly harder
Pricing:
Bluehost has three VPS plans: Standard, Enhanced, and Ultimate. Bluehost hosting for Django VPS plans start at $19.99 per month and will go for as much as $59.99 per month, which is neither the cheapest nor the most expensive Django hosts on this list. Still, given its wide array of features, there is great value for money here.
Meanwhile, its dedicated hosting for Django plan can set you back to $119.99 at its highest subscription tier.
If you're considering Bluehost, do read their service terms page.
>> click for the lowest Bluehost pricing plans today <<
---
HostGator
Hostgator is a Texas-based web hosting firm that's known for offering a suite of hosting services, such as shared, reseller, VPS hosting, dedicated web hosting, and cloud hosting. It is one of the first companies to develop the concept of "unlimited" hosting services. Therefore, this host is our top pick for Best in customer support due to its 24/7 customer support. It is also easy to use with its cPanel dashboard and has great reliability with 99.9% uptime.
Features:
HostGator's Django hosting plans would include dedicated hosting and VPS plans. It has a neat selection of features that include:
Up to 4 cores, and 8 GB of RAM
Full root access
Unlimited file storage
2 dedicated IPs
Unmetered bandwidth
Up to 240 GB SSD
Free content transfers
Python support
Pros
Excellent features
Reliability, with terrific uptime
45-day money-back guarantee
Unbeatable 24/7/365 support
Cons:
Pricing:
HostGator's VPS Django hosting plans start at $23.95 per month to $59.95 per month.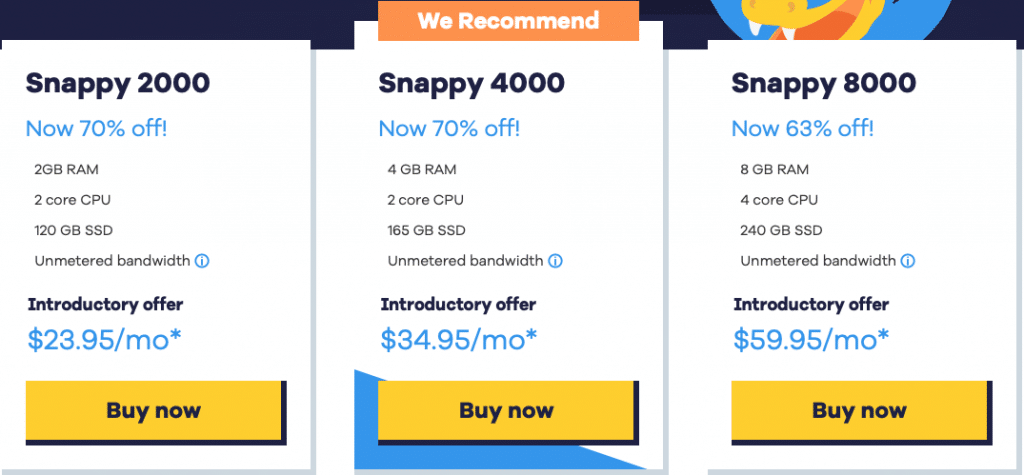 Its dedicated hosting plans are pricier, but with higher resources, ranging from $89.98 per month to $139.98 per month.
What's equally amazing is its 45-day money-back guarantee.
If you're considering Inmotion, do read their service terms page.
>> Click for the lowest Hostgator pricing today <<
---
InMotion Hosting
InMotion makes it to our list because it offers one of the most user-friendly Django hosting available. You can install Django on both its VPS and dedicated hosting accounts sans root access. Even its cheapest VPS plan is packed with great features that will help your website grow. If you have high-level resource requirements, then you can also check out their comprehensive dedicated hosting plans.
Features:
What sets InMotion apart from the rest is that it provides a suite of services ideal when you need hosting for Django. You can choose from the managed VPS or unmanaged cloud VPS plan.
5 cPanel licences and WHM licences for free
Server management
Django hosting free site transfer
High-availability servers
DDoS protection
90-day money-back guarantee
Pros:
Comprehensive solution
Affordable pricing
90-day money-back guarantee
Top-notch 24/7/365 support
Can choose between unmanaged and managed VPS plans
Cons:
Renewal prices can be high
Server locations are based in the US only
Pricing:
InMotion's VPS plans are priced reasonably as below;
Its dedicated hosting plans are more expensive and start at $139.99 per month—payment options run at 1 month, 3 months, 6 months, and 1 year.
We are in awe of its very generous 90-day money-back guarantee.
If you're considering Inmotion, do read their service terms page.
>> Click for the lowest InMotion pricing today <<
---
A2 Hosting Django
A2 Hosting is famed for its super-fast page loads and excellent uptime. Founded in Arbor Ann, Michigan, in 2003 by Bryan Muthig, A2 Hosting went from addressing the needs of a niche clientele to being one of the most popular hosting solutions today.
Its unique selling point is its Turbo servers which claim to power page loads 20 times the speed of average hosting providers.
Features:
A2's hosting for Django plans are built solidly around the tenets of speed, performance, and developer-friendliness – as the following features of even its most basic VPS offering attest to:
1 Core processor
1GB RAM
2 TB bandwidth
Command line management
150 GB disk space
Full root access
Your choice of OS
Django free hosting SSL, site migration
Free HackScan protection
Pros:
Amazing speeds and terrific uptime
A chock-full of features
Affordable pricing
Hassle-free "anytime" money-back guarantee
Cons:
No Windows server options
Unmanaged VPS plans can be complex for beginners
Pricing:
You can choose either the Standard VPS or Turbo VPS hosting for Django A2 Hosting plan. For unmanaged standard VPS,  hosting Django costs a now-discounted price of $5.00 per month. If you want a managed VPS plan, standard VPS costs begin at $25.00 per month while Turbo managed VPS' cheapest Django hosting is $59.99 per month.
>> Click for the lowest A2 Hosting pricing today <<
---
GreenGeeks
This best Django hosting provider is passionate about performance and the environment. Naturally, climate change impact takes priority in my list, considering tech's contribution to carbon emissions. So if you want the best hosting for Django with a low carbon footprint to boot, go for GreenGeeks.
Aside from its selling point of 300% green energy, it's also crazy fast and consistent with 99.98% average uptime.
Features:
GreenGeeks will fight for your website performance as it fights off climate change gases. There are three VPS Django hosting plans you can use, each packed with the following features:
Free SSL certificate
DDoS protection
Sleek cPanel dashboard
2 to 8GB of RAM
10 TB bandwidth
50 to 150 GB SSD
Free site transfer
1 Tree planted
Pros:
Eco-friendly hosting solution
Comprehensive and scalable hosting packages
99.98% uptime
30-day money-back guarantee
Free website migration
Free cPanel migration
Cons:
Linux only; no Windows-based hosting
Money-back guarantee shorter than most top competitors
Monthly billing only
Pricing:
GreenGeeks VPS hosting for Django comes in three plans, with prices ranging from $39.95 per month to $119.95 per month. The hosting provider offers a 30-day money-back guarantee, shorter than those offered by its rivals.
>> Click for the lowest GreenGeeks pricing plans today <<
---
Conclusion and Recommendation for Django Hosting:
Now, to wrap up our user's guide to the best Django hosting providers, our favourite host is without a doubt, Bluehost. It has great value for your money and excellent features designed to support your Django website's growth. Next on our list is Hostgator, followed by InMotion Hosting, A2 Hosting, and GreenGeeks.
These are just our recommendations. At the end of the day, it's up to you to decide which Django hosting solution will best address your needs.
---
FAQ:
Does Django provide hosting services?
While Django is a versatile Python programming framework and CMS, it doesn't have a separate hosting service.
Can Django run on Windows?
Yes, it can. Django is platform-agnostic, so you can use any OS.
---
That's all for now:
If you've read all the way through this best Django hosts list, we are thankful. We hope you can now answer the question for what is the best Django hosting option for you! We have a large collection of articles, guides, and comparison reviews of eCommerce solutions, web hosting providers, website builders, and more! Feel free to check them out;