Highs
45-day Refund policy
No Spy Server/ Block Ads
24/7 live chat support
Automatic Kill Switch
Dedicated Servers for Netflix/Hulu and torrenting
A new app for Amazon Fire TV and Amazon Fire Stick
Lows
Little Pricier than competitors
Security allegations regarding the service
Editor's Rating
Amazing
4.6/5
Save 79%
$2.75/mo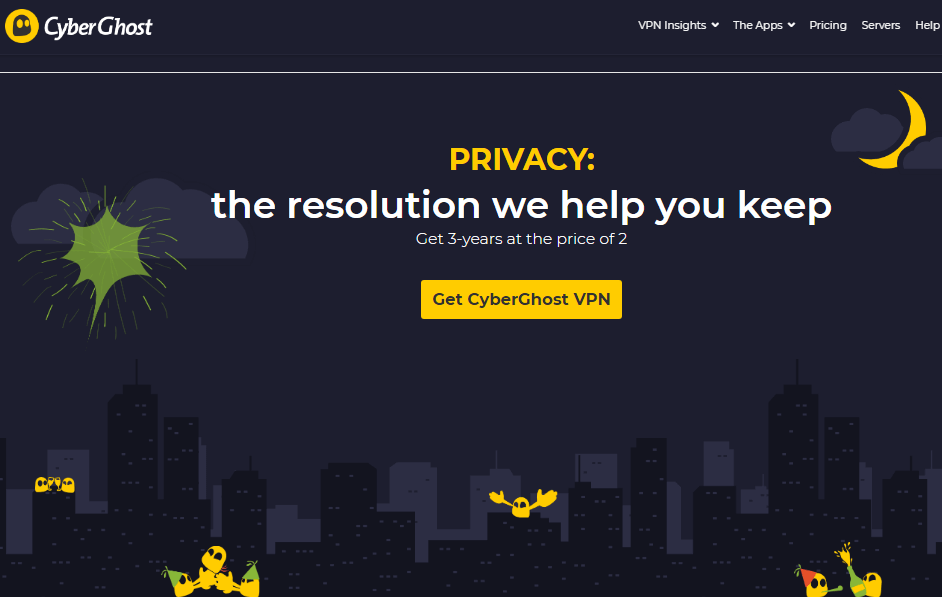 CyberGhost is based in Romania, and it has been over seven years since it has been serving the industry. The provider offers protocols like PPTP, L2TP/IPSec, and OpenVPN with servers across 60 countries. The provider has a different take on diving pricing plans; some of them are pricier than the competitors, and some have an affordable cost.
We will give an insight into what CyberGhost VPN is offering and should it be used? Is the VPN provider worth the money spend on it? Let's find out.
How Much Does Cyberghost VPN Cost?
Cost of the package plan is one of the biggest factors to analyze a VPN service. CyberGhost VPN offers four pricing plans from a monthly subscription to 3-years plan. The details are as follows: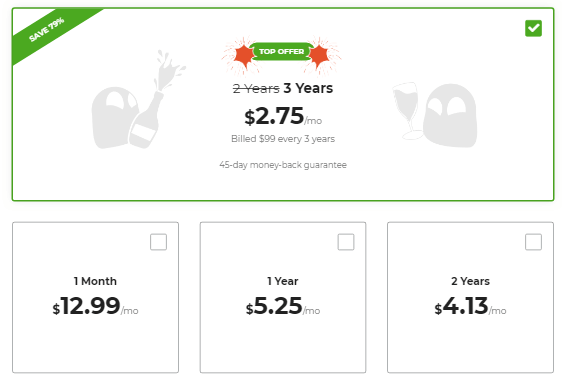 Upon comparison of  Cyberghost VPN with its competitors, we found out that the yearly plan is cheaper, but the monthly plan is a bit pricier than many. The most pocket-friendly package is of 3 years plan, where a user will have to pay $99 upfront to get the service subscribed for three years. It will cost them $2.75 a month, which is nothing.
CyberGhost VPN offers the standard payment options with an addition of Bitcoins (BitPay) for digital enthusiasts.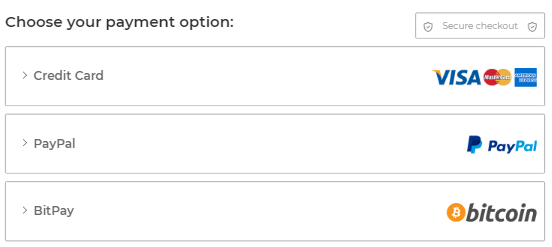 Is there any Money Back Guarantee?
CyberGhost offers a 45-day money back guarantee where users can claim their money back if not satisfied with the service, the 45-day refund option is not applicable on one month plan. For one month plan, a user can only request the refund in 14 days with no limitation on the bandwidth.
We have analyzed and compared the cost of the VPN service. Now, it's time to explain the features. Let's have an overview of the service.
Let's start with an Overview of the Service
CyberGhost is owned by a company which is listed on the London Stock exchange named as "Kape." The VPN giant has maintained its way up to the top, and after all these years, not even a single user has reported that the provider has misused the data.
The table below gives a complete overview of CyberGhost VPN, which is enough to provide a quick scan of the product.
Time to go deep to understand each feature in detail. Let's start with the security features:
 CyberGhost VPN Overview

Servers
3724 Servers in 60 Countries
Protocols
PPTP, L2TP/IPSec, and OpenVPN
Encryption
AES 256 bit
Apps
Yes
Netflix
Yes
Torrent friendly
Yes
Location
Romania (Outside 14 Eyes)
Support
Yes
Zero-Log Policy
Yes
Simultaneous Connection
7
Is CyberGhost VPN Safe to Use?
During our analysis, we found out that Cyberghost VPN uses military-grade encryption and offers up to 256 bit AES protection. There are many security features incorporated by the provider with the service to ensure that user data stays hidden and safe.
The security features are:
Automatic Kill Switch
CyberGhost VPN provides a Kill Switch which works as a fail safe if your connection is lost, your IP address will not be exposed or tracked. CyberGhost offers an automatic Kill Switch where you don't need to switch on the Kill Switch manually.
Block Ads
The website has an inbuilt feature that blocks all doubtful ads. The website has a unique tool that checks the URL of the website and checks if it is spam.
No Spy Servers
CyberGhost offers a 256-bit AES encryption while operating from Romania. Being in Romania, the jurisdiction of the 5 Eyes (and even 14 Eyes) doesn't apply there. The law of Romania doesn't force CyberGhost to keep or store any data of users.
Supported Protocols
CyberGhost provides all the standard protocols that offer military grade encryption. This includes L2TP-IPsec, IKEv2, OpenVPN and PPTP protocols. These protocols are the benchmark in the protocol segment of a VPN provider which secures user data.
Is Cyberghost Server Base is Strong enough to compete with other VPN Providers?
CyberGhost provides diversified 3724 servers across 60 Countries with the addition of having Dedicated Servers for:
Torrenting
Netflix
Hulu
BBC iPlayer
YouTube
Hulu
Crunchyroll
Every VPN server is optimized for streaming. To check the credibility, we have run speed test over different servers and here are the results:
Server Speed Test Results
With the CyberGhost 7 upgrade, we were hoping that the speeds would have increased as well, giving a new experience. We did a few tests, and the result was the same for every region we choose.
CyberGhost is a leader in the VPN market; stakes are set so high for its speed test. We tested the potential of its servers with a 100Mbps internet connection.
UK Server (London)
Ping: 69ms
Download: 5.63 Mbps
Upload: 15.65 Mbps
EU Server (Amsterdam)
Ping: 41ms
Download: 51.10 Mbps
Upload: 21.10 Mbps
Asia Server (Hong Kong)
Ping: 299ms
Download: 4.00 Mbps
Upload: 4.07 Mbps
US Server (New York)
Ping: 189ms
Download: 18.41 Mbps
Upload: 7.12 Mbps
The speed should have been ultra fast as the new revamped CyberGhost so far looks great. I am hoping that the VPN provider understands the potential competition and work harder to improve the speed further.
Available Apps and Supported Devices
CyberGhost is compatible with a diverse range of operating systems that include:
macOS
Windows
Linux
Android
iOS
Routers
Amazon Fire TV
Amazon Fire Stick
These devices are mentioned in the device section with the details that include the OS compatibility as well. You can verify if your CyberGhost VPN APK will work on your device. Furthermore, CyberGhost offers seven simultaneous device connections, that is a plus point for customers who require more connections with one single account.
With the newly upgraded website, CyberGhost has introduced an app for Amazon Fire TV and Amazon Fire Stick. This is a plus factor for all those who want CyberGhost on their Amazon devices.
Cyberghost VPN download process is easy. All you need to do is sign up and configure the settings. On Fire Stick, go to Amazon App store and download the CyberGhost app on Fire Stick and configure settings on the device.
Also, CyberGhost provides a console for gaming lovers, who can install the app on their gaming consoles and Kodi as well. The guide on the CyberGhost website gives all the details.
CyberGhost iOS App User Review
Rating: 4.6/5

CyberGhost Android App User Review
Rating: 4/5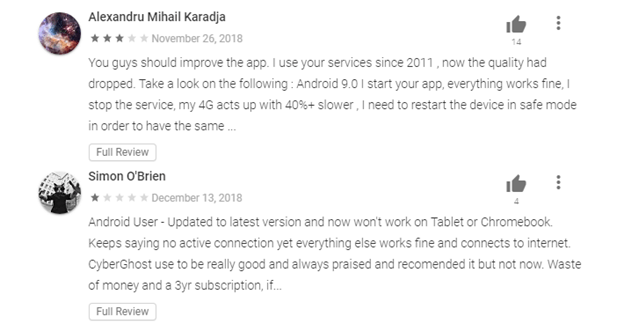 Unblock Kodi through CyberGhost VPN
CyberGhost has a soft corner for Kodi and provides a useful guide for users to understand how to use CyberGhost on Kodi. Kodi is a unique streaming player that is being targeted by many.
Having a guide for Kodi makes things safer for Kodi users. The support page for Kodi has all the FAQs that will provide basic information to configure Kodi.
Another main concern of VPN users is the privacy and security of their data. To ensure a VPN provider is maintaining the protocol and keeping the data safe is by checking their log policy. Here's our analysis on Cyberghost VPN log policy.
Does Cyberghost maintain No-Log Policy?
CyberGhost has a no logging policy which is a good indication.
This question "Is CyberGhost safe?" is baseless as the transparency report clearly states the number of requests which CyberGhost received, but they haven't provided any user data because they don't keep any log of their users' activities.
Security Allegation in the news regarding the Parent Company
Parent Company and VPN Sail for Separate Shores
Parent company gives a good idea about a VPN. In the case of CyberGhost VPN, it's pretty awkward.
The VPN giant was sold to Kape Technologies which is an Israeli tech firm notorious for making and distributing malware.
Malwarebytes recently alleged that Kape Technologies are still spreading malware. Ironically, CyberGhost CEO Robert Knapp accepted after the buyout that the parent company and VPN had separate goals.
Without a doubt, CyberGhost VPN has maintained its reputation in the market as a reliable VPN service. The parent company, on the contrary, is the exact opposite of what the VPN company claims.
In a nutshell, CyberGhost VPN's parent company cannot be trusted, and the VPN Company itself is well aware of it.
What about Customer Support?
CyberGhost has a responsive live chat support option where you can ask and resolve any query on the spot. The live chat representative will respond within a few seconds and will attend your issue. Apart from this, the FAQs option is full of all the basic and technical questions that users have already asked. Combine these two aspects and download CyberGhost for your daily use.
Final Words – Is CyberGhost VPN Good?
This CyberGhost review has been a roller coaster because we found new features which stand out from other VPN providers. CyberGhost, unlike other VPN providers, has so far not been involved in any log incidents and we can guarantee their log policy is crystal clear.
The overall experience has been overwhelming because of the product's engaging content and user-friendliness. We certainly recommend Cyberghost VPN for many purposes and devices like Windows and streaming.
---
That's all for now:
If you've read our CyberGhost VPN Review up to here, we are grateful. Don't forget to keep an eye out for our ever-growing blog of review and comparison articles of VPN services, eCommerce platforms, SEO software, screen capture tools, webinar and conferencing software, education platforms, website builders, and more such as;
Please share any comments below!