Do you want to skip the read and get right to my top picks? The best cheap domain and hosting service for most people is Hostinger.
---
Introduction:
Welcome to this brief guide on the best cheap domain and hosting providers in the market!
All businesses need to start somewhere. Are you a small business still trying to make your way into the eCommerce space? Or are you an online enterprise geared for growth? Whatever your business size, you need a website. It doesn't have to have all the bells and whistles of an eCommerce website. At the end of the day, if it lists your hours, location, and has a blogging feature – that could be enough. Of course, upkeep has to be affordable as well.
So we're going to give you a useful guide into choosing the best cheap domain hosting service. We present five reliable web host and domain providers that not only get your website online but save your wallet as well.
---
What Does Cheap Domain and Hosting mean?
You may not realize it, but domain registration and hosting with different companies do not come cheap. Generally, a separate .com domain name would cost around $10-$12 a pop for initial registration based on where you purchase them. Renewal costs are higher at $18-20! However, there are indeed cheap ones that can go as low as $0.99, and even free business domains but again renewal fees are higher.
Therefore, it's important to know how to look for a cheap domain and web hosting service for your personal website or online store. Or – if you're feeling extra-entrepreneurial, launching a domain reseller business on the side can also work.
However, if you're just beginning your journey, you need a great web host and domain provider in one package for your site to call home. Since there are plenty of options out there, you'll need something affordable and reliable at the same time. Fortunately, if you know where to look, there are plenty of cheap domain hosting options that are a great starter.
---
Our Handpicked Best Cheap Domain Hosting List:
In this review, we're breaking down the five best web host and domain options you need to consider:
Our shortlisted cheap domain and hosting services include:
---
How to Choose the Best Domain Hosting with Email?
In order to determine which services provide the best cheap domain hosting, our testing team took careful consideration of the following factors. We focused on shared hosting plans, which are the least expensive type of hosting service.
Ease of use – is this cheap domain and hosting service user-friendly? How is it particularly when it comes to learning how to use the platform and navigate through it;
Features and functionality, to be shortlisted as one of the best domain hosting with email, we tackle if the host provides domain, email, ecommerce solutions, applications, WordPress installation, and sufficient storage space;
Performance and reliability – Downtime and slow-loading pages are your worst nightmare in a web host and domain provider. So we looked at server availability, loading speed, and uptime; and
Value for money – is this web host and domain affordable and a bang for your beck? What is the cost of plans, and renewal rates?
---
In Detail: Our Handpicked Best Web Host and Domain Provider
Based on the criteria presented above, here are our tried and tested picks for the best cheap domain hosting services in various categories:
Hostinger
Based in Lithuania, Hostinger is now used in almost 180 countries, counting nearly 29 million in its user base. The brand itself has been recognised for its push towards innovation and is now one of the most trusted tech brands and online service providers in Europe. It's our top choice for the best domain hosting with email due to its sheer value for money. Find out why.
Features:
Even at its most popular premium plan for personal websites, you get the following from this cheap domain and hosting service.
Web hosting
Free domain
100 websites
Free email
25,000 visits monthly
Free site migration
Unlimited databases
Weekly backups
1-click WordPress installation
Unlimited bandwidth
Free SSL certificates
For the cheapest plan, you get 1 website, no free domain, and only 1 email account.
Pros:
Chockfull of features
Cheap domain and hosting prices
Better than average speeds
Excellent 24/7 customer support
30-day money-back guarantee
Cons:
No traditional cPanel
Uptime can be inconsistent
Confusing payment terms
Pricing:
Hostinger is our overall top choice for cheap domain hosting because of its value for money.
Its shared hosting plans will set you back as low as $2.59 per month for the premium plan with a domain name. There is a cheaper $1.39 subdued entry-level plan without a domain name.
Important to note the Single Shared Entry plan does not include a domain name. The renewal plans of this cheap domain hosting are also affordable though with the premium plan renewing at $5.99 p/m.
If you'd like to purchase a domain only, you can buy one with the premium .COM extension at $9.99 per year. It's easily one of the best domain reseller hosting services out there.
>> Click for the lowest Hostinger pricing today <<
---
InMotion Hosting
One of the older site hosting services, InMotion Hosting has been around for more than two decades as a web host and domain registrar. It has no specific target market, but offers something for everyone from casual users to those requiring more expansive measures for e-commerce. InMotion promises 20x web hosting speed than your average host, and at a lesser price.
Features:
Here's what to expect from this cheap domain hosting with email platform (except for the basic Core Plan, which only offers Free SSL, 100GB SSD, 10 email addresses, and no free domain). The rest of the InMotion hosting plans include:
Free domain and SSL
Unlimited websites
Intuitive cPanel
Free website builder
Unlimited emails
Google Workspace
Unlimited bandwidth
Pros:
Blazing fast speeds
Excellent features in plans
90-day money-back guarantee
Cons:
No free daily backups
Inconsistent uptime
More expensive than its rivals
Pricing:
There are four shared hosting plans offered by this cheap domain hosting service: Core, Launch, Power, and Pro. They will cost you from $2.29 to $12.99 per month on a 3-year billing scheme.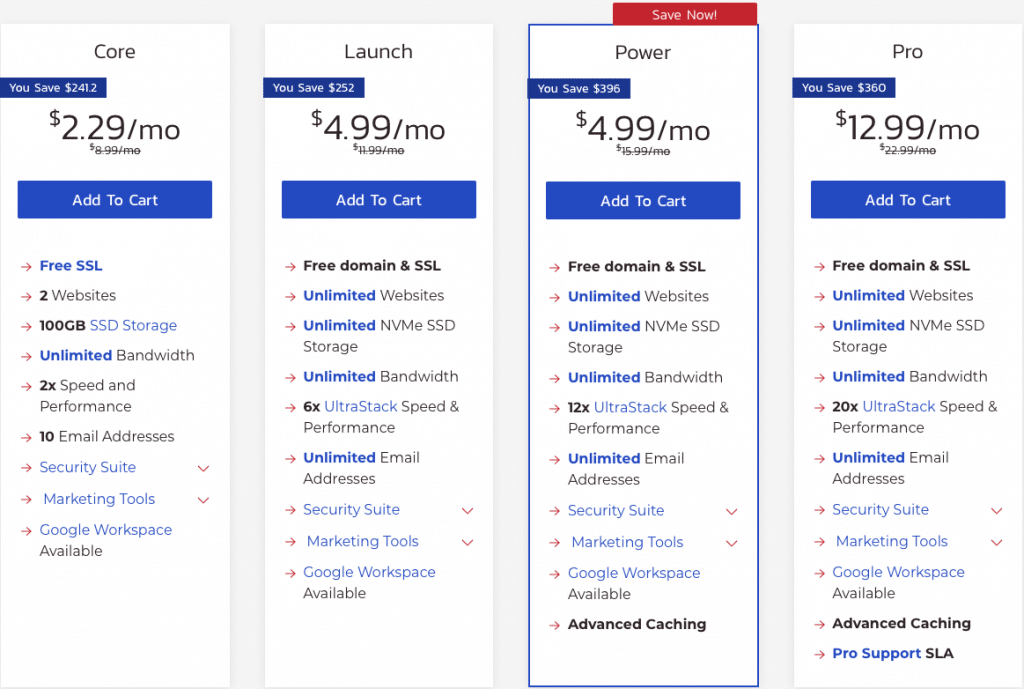 Meanwhile, its domains are available at $17.99 per year.
>> Click for the lowest InMotion Hosting Pricing today <<
---
Dreamhost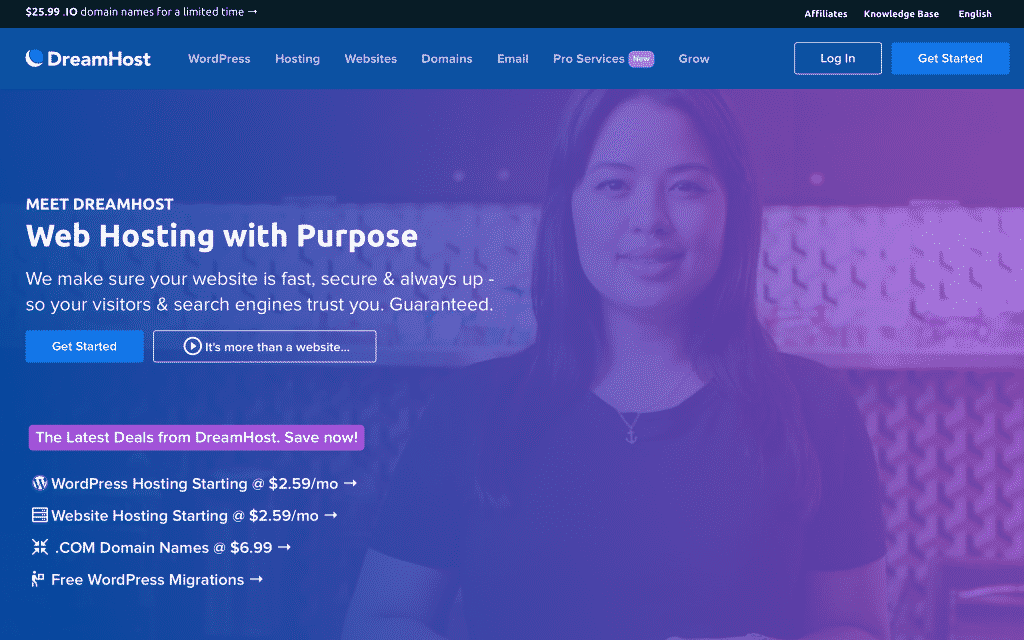 Dreamhost is a Los Angeles, CA, USA-based web host and domain registrar that has been around since 1997. As one of the early movers of the web hosting space, it now powers more than 1.5 billion websites worldwide. The platform's shared hosting plans come with a host of unlimited features and affordable pricing options. It promises to help you "look like a pro" online.
Features:
What can you expect from Dreamhost as one of the best domain hosting with email service? The platform's Shared Unlimited plan offers:
Free domain
Unlimited websites
Free SSL certificates
Pre-installed WordPress
Unlimited email
Unlimited traffic
Free website builder
Its entry-level Shared Starter plan only comes with 1 website + free domain unlimited traffic, pre-installed WordPress, and an add-on email service for around $1.67 per month.
Pros:
100% uptime guarantee
24/7/365 support team
Record-breaking 97-day money-back "cancel anytime" guarantee
Flexible payment schedule (1 month, 1 year, 3 years)
Cons:
Slower speeds than average
No cPanel, has a custom control panel that some may not find intuitive
No phone support
Pricing:
Dreamhost has two shared hosting plans: Shared Starter and Shared Unlimited. Your most affordable route in this cheap domain hosting platform would be to go for the three-year plan at $2.59 per month.
For domains, you can get the cheapest .XYZ domain for $0.89 per year and currently a .COM domain for $7.99 per year.
>>Click for the lowest Dreamhost Pricing today <<
---
Hostgator
Hostgator has consistently been ranked among the best web hosting providers in the industry. Aside from that, it's hard to miss this platform with its thrust on advertising and affordability, hence, making it a top contender for the best cheap domain and hosting providers. For those working on smaller sites, the interface is easy to navigate and it also makes on-boarding a no-stress affair thanks to video tutorials as to how to use the platform.
Features:
Here are the features to expect from Hostgator as one of the best domain hosting with email service right now.
Unlimited domain names for mid-tier and premium users;
Provisions for the creation of unlimited email addresses regardless of what plan you're on;
Site-staging for both CMS- and non-CMS-built websites;
A built-in ecommerce suite that includes storefront management tools, integrated shipping, product management, payment portals, and provisions for international transactions and variants. There are also provisions that allow online stores to interface with PayPal and Stripe to facilitate online payments. The platform also gives users between $100 and $150 in online advertising credits.
Security features include two-factor authentication and round-the-clock server monitoring.
Pros:
Keeping sites online is never a problem as Hostgator has more than 20 data centres scattered across the globe, particularly in Asia, Europe, and Australia;
Hosted sites load in as fast as 0.20 seconds;
Both bandwidth and storage are unlimited across all subscription packages
Cons:
This web host and domain provider doesn't offer a free trial;
Knowledge base is updated sporadically;
Customer service can get sketchy unless you're on a mid-tier or premium subscription plan
Pricing:
Hostgator's three shared hosting plans will set you back between $2.75 and $5.25 monthly.
Hostgator introductory offers include $12.95/yr for .com then renewing at $18.99/yr. Other domain extensions are available to;
>> Click for the lowest Hostgator pricing today <<
---
Bluehost
Bluehost has been around since 2003 and has consistently made the global Top 20 list for the best web host and domain providers for more than twenty years. While a great favourite among WordPress users, it is currently the hosting service of choice for over two million websites from across the globe.
Features:
One free domain per subscriber;
Unlimited email addresses for mid- and premium tier subscriptions;
Numerous security features which include password-protected directories, one-click integration with Cloudflare to work against potential DDoS attacks, and even a multi-layer spam filter against unwanted messages or marketing materials
Pros:
Storage begins at 50GB for basic plans, but unlimited for mid-tier and premium subscribers;
30 day trial available;
Cons:
Tends to load rather slowly at 3.22 seconds
Most key features are only available for those on more expensive plans;
Uptime is slightly lower than the industry standard
Pricing:
The average cost of Bluehost's standard plans runs between $3.95 and $13.95 every month. Take note, however, that key security features are offered for all plans except for Basic Hosting.
Bluehost introductory offers include $12.99/yr for .com then renewing at $18.99/yr. Other top level domain extensions are available to;
>> Click for the lowest Bluehost pricing today <<
---
Conclusion and Recommendation:
Now, to wrap up our cheap domain hosting guide!
We've tested and vetted more than 20 providers and came up with the top 5 list of the best domain hosting with email service.
Hostinger leads the pack with its feature-rich shared hosting plans, cheap domain and hosting features, overall, the most affordable and consumer-friendly among our contenders! Following closely is InMotion Hosting, which we love for its excellent features and great value for money for longer registration periods. Then comes Dreamhost, followed by Bluehost and Hostgator, all of which provide among the best domain hosting with email solutions in the market today.
Yes, we've done the research for you so you won't have to. However, it's always better to decide for yourself by doing your own research. Whatever best domain hosting with email service you go for, we'd like to think we helped!
---
FAQs:
What is a domain registrar?
By a domain registrar, you mean it is the company that deals with everything you need to register a new domain and point it to your IP address.
Do all web hosts offer an email solution?
No, they don't. Some web hosts require you to install a third party app for email, so be sure to get the best domain hosting with email.
---
That's all for now:
If you've read all the way through this best cheap domain and hosting list, we are thankful. We hope you can now answer the question of what is the best cheap domain hosting option for you! We have a large collection of articles, guides, and comparison reviews of eCommerce solutions, web hosting providers, website builders, and more! Feel free to check them out;